New Contributor
Mark as New

Bookmark

Subscribe

Mute
Hello, Is there anyway to pin or lock the on-screen keyboard in one place in a Survey123 form in the field app? Rather than the keyboard popping up every time a field is selected, the keyboard is part of the form. If unable within Survey123, does anyone have an app suggestion for a on-screen keyboard that can be locked on the screen. Thank-you!
2 Solutions

Not applicable
Mark as New

Bookmark

Subscribe

Mute
Hi @Shannon_Ehlers,
This is not currently possible with iOS or Android and the Survey123 field app. Like many other apps, the keyboard is controlled by the OS, so when an input field is selected that requires user input, the keyboard will appear, otherwise the OS will automatically hide the keyboard.
The problem with always showing the keyboard in the app, regardless of the input questions, would be that if you had a survey that had no input questions (such as geopoint, select one, select mulitple, rank, range, image, audio etc) then you would always see the keyboard and it would take up half the screen real estate, which on smaller devices would be an issue.
Regards,
Phil.

Not applicable
Mark as New

Bookmark

Subscribe

Mute
Hi @FredMitchell,
Thanks for providing the screen recording and XLSForm, this is very helpful. What you are seeing is not new to iOS15 or the latest Survey123 3.13 release. This behaviour of the keyboard has always occured with iOS. Actually it also occurs on all other OS, but may be less obvious depending on how the on-screen keyboard works.
The reason for this issue is due to change of focus in the application, in this case a change not occuring. As you can see from the "flashing cursor" below, even when selecting the radio buttons in the select one question, the focus of the cursor is still in the text box, meaning the OS will think the keyboard should still be open. In the case of Survey123, the radio buttons (select one questions) do not cause the focus to change, so the OS keeps the keyboard open.
To close the keyboard you can simply swipe down over the keyboard, and it will close, if you are on in iPad or other OS (Android, Windows devices) there is normally a button on the on-screen keyboard with a down arrow/close option, to close the keyboard when not needed. On iPhones, the keyboard is smaller and doesn't have this button, so you can just swipe down over it.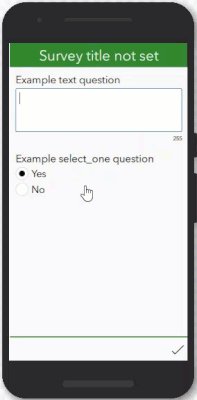 Regards,
Phil.
9 Replies