New Contributor III
Mark as New

Bookmark

Subscribe

Mute
The offline basemap (.vtpk) copied to Android device and referenced in the Map Library (tried both SD card and default Android directory following instructions here) does not display when viewing existing survey records from the Sent Folder. When connected, data in Sent Folder can be viewed on a map by choosing a basemap from the basemap selector as expected.
The same offline basemap copied to the device is available when collecting data offline in the field and working as expected. Is it possible to view existing survey data from the Sent Folder on the basemap copied to the device? If so, how or where is this configured?
1 Solution

Not applicable
Mark as New

Bookmark

Subscribe

Mute
Hi @KyleOberg ,
I had a look at your VTPK and loaded it to a few of my test devices, as well as publishing your survey XLSForm and everything appears to be working as expected. The basemap used in the geopoint question and the Map tab of the survey folders is controlled by the default set in Connect when you publish the survey.
If I set the VTPK as the default basemap in the Map settings in Connect, and then publish the survey, when I open the survey on Windows, Android or iOS, that VTPK is set as default in the geopoint question. Once I collect some surveys and save them to different folders such as Drafts, Sent, Inbox, Outbox, when I go to the Map tab in that folder, I see the VTPK load as soon as switch to the Map tab, and it is selected by default and displays with the surveys that are in that folder. If I then open the basemap chooser in that folder, I can see the default selected basemap is the VTPK, and I can also switch to other basemaps loaded on the device or that are available online.
This works with both the device online and offline when the VTPK set as default basemap. One thing to note is that the user selected basemap for geopoints and the Map tab in folders is persisted for each question and each survey. So if you had a different default basemap previously set, or the user has changed the basemap from the default to another basemap, the next time they open that survey or go into one of the Map tab folders, the basemap they used last time will be remembered. To clear this user selection, you need to delete the survey on the device, and download it again, to apply all default settings to that survey.
Can you confirm if you follow these steps and have set the default basemap as the VTPK, are you still seeing any issues?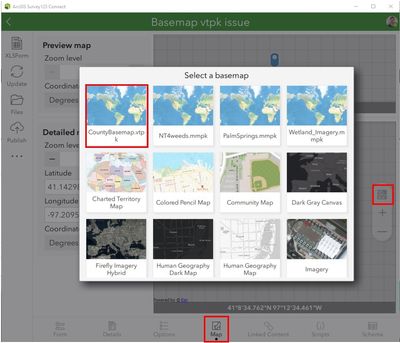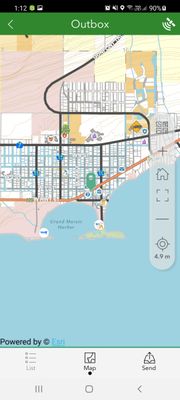 Let me know if I have missed something.
Regards,
Phil.
4 Replies