New Contributor II
Mark as New

Bookmark

Subscribe

Mute

Email to a Friend
In the survey123 Connect Application, I would like to set the default location for the GeoPoint field. I have the latitude and longitude of the default location and I have entered it under the Map tab under Settings. This is shown in the attached image.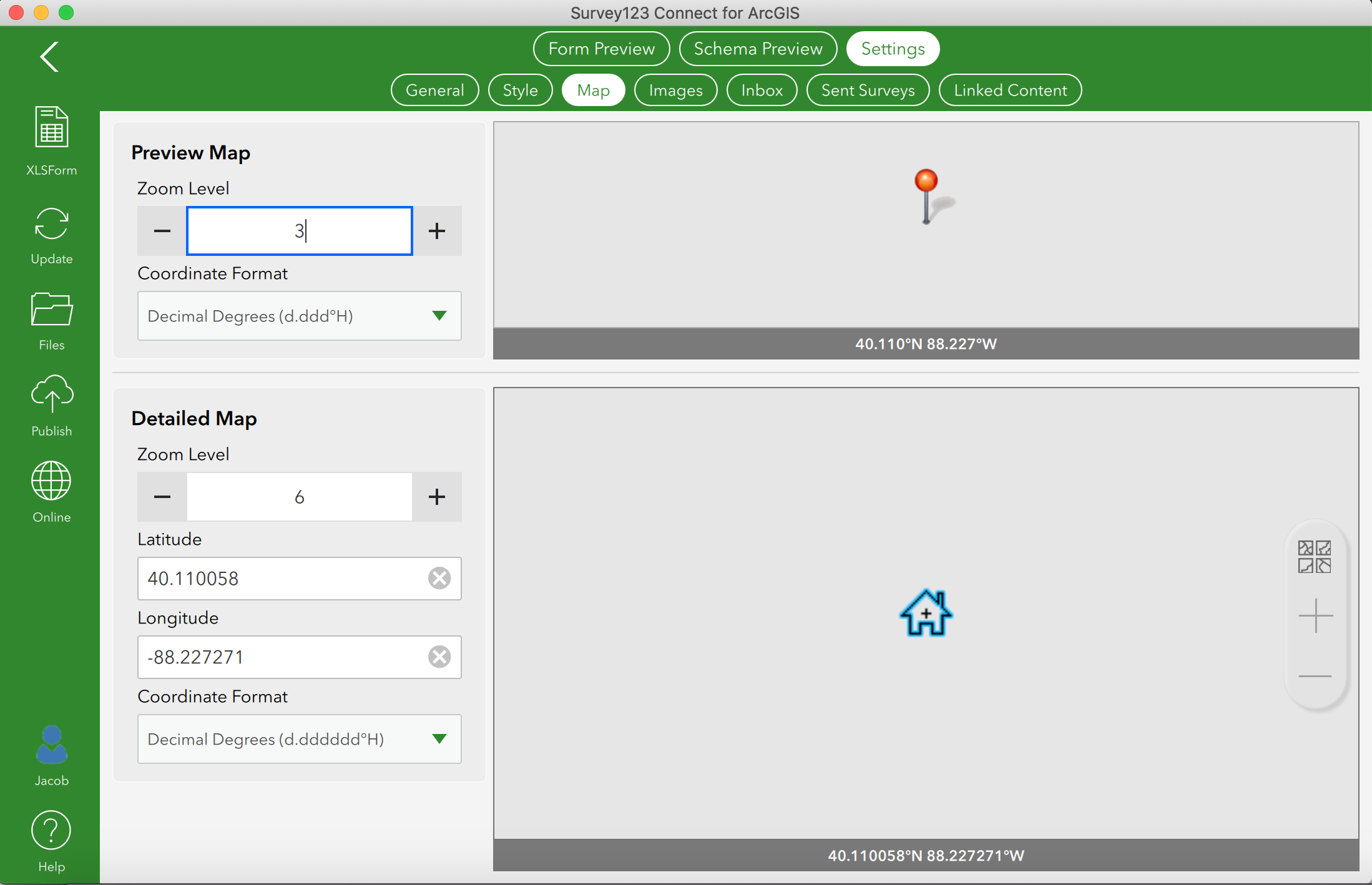 However, It doesn't update the map shown for the question using the GeoPoint field in the final published survey. (I published it after saving the changes in the Settings). Would you suggest any other changes that I can try?
Thank You,
3 Replies

Esri Regular Contributor
Mark as New

Bookmark

Subscribe

Mute

Email to a Friend
Hi Jacob,
This should work as expected when you click the Home button in the geopoint question map. The one you set in Connect should reflect the default home location when you open the map. What version of Connect are you using to publish the survey? Do you set a default value in the xls form? How did you open the survey, from field app or web form?
Just note that if you made any change and re-publish the survey and some users are not seeing the updates of the change, you might have some permission access issue with the feature layer view:
Problem: Survey results are not updated in Survey123 for ArcGIS
Thanks,

New Contributor II
Mark as New

Bookmark

Subscribe

Mute

Email to a Friend
Hello Shwu-jing Jeng,
Thank you for your reply.
I am using survey123 connect 3.6.137 for designing the survey. The users open the survey on their browsers.
Thank you for pointing it out that it shows the default location when the home button is pressed. Before that, when the map is initially loaded, it shows another location.
I have set the default location on the survey123 connect application (as shown in the figure in my original question).

Esri Regular Contributor
Mark as New

Bookmark

Subscribe

Mute

Email to a Friend
Hi Jocob,
As we had fixed issues regarding the basemap/location between Connect and webform, I will encourage you to use the latest vewrsion of Connect to publish the survey to avoid any map related issue.
If upgrading of Connect or republish is not possible at this moment, you may want to try to set the webform version to the latest one by going to survey123 web>survey>Settings>Versions>choose "Always use the latest version." and save the change to see if that would make a difference.
Thanks,