New Contributor II
Mark as New

Bookmark

Subscribe

Mute
Hi,
Since the 9th May, we seem to be having trouble with some survey123 forms being invisible on the Survey123 website. Seemingly at random, some forms do not show on the Survey123 website, for some users (even if the corresponding hosted feature content etc is accessible on AGOL). We are all Creators, Administrators/ Designated Administrators with licences for Field Apps bundle, Essential Apps Bundle, and Office Apps Bundle.
All Survey123 forms (with or without issues) are associated with AGOL hosted feature content/service definitions etc. that we can all access/edit without problem - all content is shared with the entire organisation and groups that we are all members of.
Curiously, apart from the associated hosted feature content/service definition etc. that's accessible to all on AGOL, we can all see the "problem forms" listed on AGOL, as well. However, when we click on the form and select "view item details" and then "manage in Survey123 website" we get an error message that claims that the account is not licensed for Survey123 (screen cap copied below). If we choose to try and open the problem form in "edit in Survey123 connect" - Survey123 comes up with an error claiming that our AGOL URL "is not on your ArcGIS Portal list" (even though we are logged in and can access other forms).
So not only are the surveys invisible on the Survey123 website (and inaccessible on Survey123 Connect), they do appear on AGOL, but cannot be accessed via AGOL (if that makes sense?). Even more curiously, the "problem forms" are accessible to the same user (who cannot view the form on the Survey123 website) on the Survey123 App - i.e. the same user can collect and sync data on e.g. a tablet - without issue - but cannot view the collected data/form on Survey123 website.
We have so far tried clearing all browsing data (history, cookies and all) from Chrome. We all use Chrome to access AGOL/Survey123/etc. We've checked data sharing settings, licences etc. Since the 9th of May - some survey forms have worked fine and some haven't - seemingly at random. Have there maybe been some changes on (or around) the 9th of May to Survey123, please?
Any help much appreciated

Thanks,
Susanna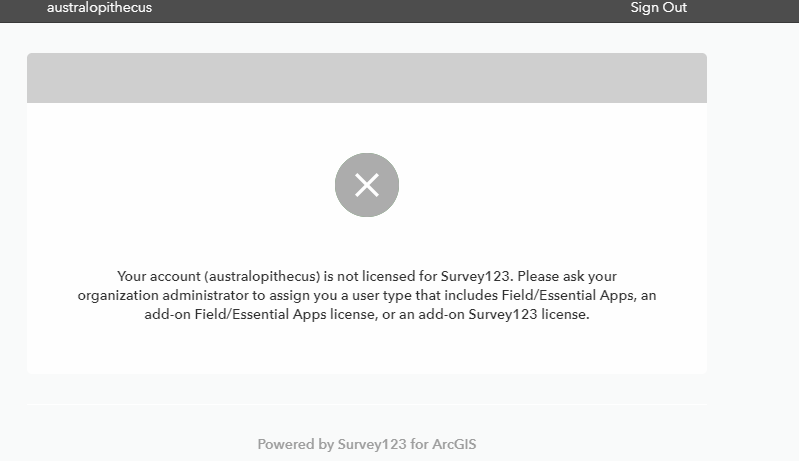 2 Replies

by
JamesTedrick

Esri Esteemed Contributor
Mark as New

Bookmark

Subscribe

Mute
Hi Susana,
Can you contact Esri Support? It seems like there are some issues with your ArcGIS Online organization.

New Contributor
Mark as New

Bookmark

Subscribe

Mute
We are having the same problem. Has there been any resolution provided by esri support?