New Contributor
Mark as New

Bookmark

Subscribe

Mute
For a citizen science bird survey I have the Survey123 form that can be viewed online via the collaborate link though would like the public survey form to be downloaded and installed permanently on the app. Is this possible with a shared public survey or does it require additional fieldworker licenses? The organisation url login still requires a user account and password. Thanks
2 Replies

Esri Regular Contributor
Mark as New

Bookmark

Subscribe

Mute
Hello @nelsonbirdsnz,
On the Survey123 website under the Collaborate tab you can switch the option for Share this survey to "Ask the user how to open the survey, in browser or in the Survey123 field app" which will allow the user to choose. When the survey is shared publicly the link that is generated on the Collaborate tab will work for public users there will be no prompt to log in. You can also share the QR code as well.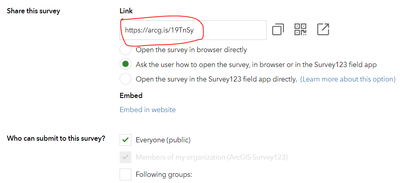 Thank you,
Zach

by
DougBrowning

MVP Honored Contributor
Mark as New

Bookmark

Subscribe

Mute
@ZacharySutherby Can we get the download button to show in the app when not signed in please.
If I try to use the barcode option it will find it then it fails download and says I have to log in. How can we actually use a public survey then? We will be offline and our forms do not work on the web. Please help we were counting on this. Not sure how people are using it? What am I missing?
1. It is an extra step for the user.
2. The public needs to contact us to get forms which defeats the purpose of them discovering them really. We cannot send a link to a person if we do not know who they are.
3. It is a bunch of extra steps and maintenance for us. If we get 1,000 emails on this we are done for.
4. We want to just use the search in download for quick easy add.
Also when I go to https://survey123.arcgis.com/ I just get a sign in box. Would be really cool to be able explore all public surveys here! Do not see why not.
Strangely Field Maps lets me use my map without signing in.
Maybe this is a @IsmaelChivite question.
Thanks!