New Contributor III
Mark as New

Bookmark

Subscribe

Mute
I use S123 Connect to publish my survey that I have Inbox enabled so the map is available. In S123 Connect, in the map options, I have the default location set to San Francisco, but for some reason whenever I open S123 on my phone, and go to the Map, it always defaults to London...see screen shot below of what I have in S123 connect and then on my phone. How do I keep it set at San Francisco?
S123 Connect: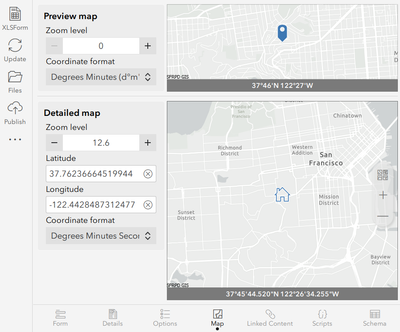 Phone: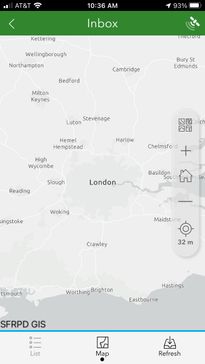 2 Replies

New Contributor
Mark as New

Bookmark

Subscribe

Mute
Is the region set on your cell phone the United States? Or maybe you need to publish it again with the changed default map? You can also try setting the default within the excel sheet using this example

New Contributor III
Mark as New

Bookmark

Subscribe

Mute
I don't believe so, the London location happens to all my users as well (over 100+). I've also republished it several times after moving the default location multiple times and every time it defaults to London for some reason.
I took a look at the geopoint example but I already have a geoshape within my survey and don't want another location in the survey to confuse people. I also think the default location should be able to work but it doesn't seem so...just wondering if anybody else has this issue