Occasional Contributor II
Mark as New

Bookmark

Subscribe

Mute
Hi all,
I was hoping someone could help me as I'm struggling to get dates to work in the web form. I have a survey that is pulling in data using the javascript functionality including some dates, which are coming into my form in epoch time format e.g. 1325635200000. After reviewing Ismael's blog post here and the help section on decimal date time I've attempted to convert my epoch date using the decimal-date-time function. My set up can be seen below N.B. I split up the calculations to see where the issue was occurring but originally just had one field with a single combined calculation.

In Survey123 Connect, this all works fine (see below) but in the web form I find that the decimal-date-time calculation simply won't fire (see second image below).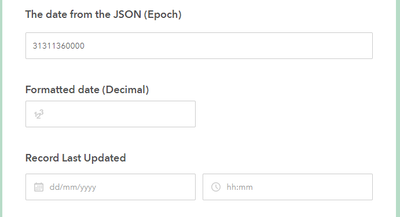 I've tried various combinations on this and none of them seem to work. I even went back and tried the example Ismael proposed in his blog post below and had no joy with this. Can someone please look at this and let me know if I'm doing anything wrong or is there currently a bug in the S123 web form that is preventing this from working? Any help on this would be very much appreciated. Thanks, Anthony

1 Solution

New Contributor
Mark as New

Bookmark

Subscribe

Mute
I was able to get this to work by dividing the epoch timestamp by 86,400,000 (1000 * 60 * 60 * 24) and then using the date() function to convert to a date object. Let me know if that works for you!
-Andrew
4 Replies