New Contributor III
Mark as New

Bookmark

Subscribe

Mute
Hello,
I have a survey set up with a DateTime field that uses the now() function to automatically capture the current date and time while collecting records. I've used this function in the past with no issues, however on this new form I am noticing an issue where the saved date ends up being the previous day to which the survey was actually conducted.
Upon closer inspection I was noticing all the dates in question seemed to be around the 23:00-24:00 hour mark. I then noticed that the date/times that did not seem affected are still displaying very early in the morning (0:01-4:00). I'm guessing that something is occurring where it is subtracting 12 hours from the default "now()" date and time.
I'm assuming this perhaps has something to do with a 12-hr vs 24-hr formatting issue, although I have done no calculations or formatting changes on this DateTime field.
Hoping someone may have some insight into what is happening here and how I can correct it. Xlsx file attached in case that helps.
Thank you!
-Dusty
1 Solution

Occasional Contributor II
Mark as New

Bookmark

Subscribe

Mute
Hi @DustyJordan ,
Since you are using AGOL, the timezone setting is set when you created your hosted feature service. It can be re-configured by updating the service definition. I found this article which will assist in the process. By default, your feature service would have been published in UTC+0.
In ArcGIS Pro, when you add the service to a map, you can check the layer's time zone setting in Layer Properties > Time tab.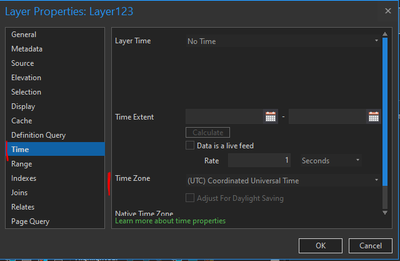 I would assume the S123 app will look at your device's timezone setting and adjust accordingly from the feature service's timezone setting. When you view it in ArcGIS Pro, the data comes in as UTC+0 and will need to be either mentally calculated or rehandled by a pop-up. On ArcGIS Online, the date is converted according to your computer's time. For working with dates in ArcGIS Online, see this article.
If you want to check the exact date value being uploaded by S123, you might be able to:
Get the gdb on your device's S123 AppData folder which should contain a copy of any unsynced (drafted) surveys. This only works for surveys with is offline capability enabled), or
Try writing the date as an integer - datetime values are stored as epoch timestamps in milliseconds.
8 Replies