by
DougBrowning

MVP Notable Contributor
Mark as New

Bookmark

Subscribe

Mute

Email to a Friend
We go on 8 day hitches to collect data. We are offline the entire time. Crew is hiking so cannot bring too many extras.
Our people are very concerned there is no way to back up while in the field. One hitch could be 50K worth of data.
One idea is a USB stick plugged into the tablet. Android is easy here but iOS it is much harder due to its restrictions...or so I thought.
I got a USB stick with a lightning adapter. When I plug it into an iPad I can see it as a device. And then to my surprise I can also see all my Collector data. Digging down in it I see a file called something....database which seems to be the offline data.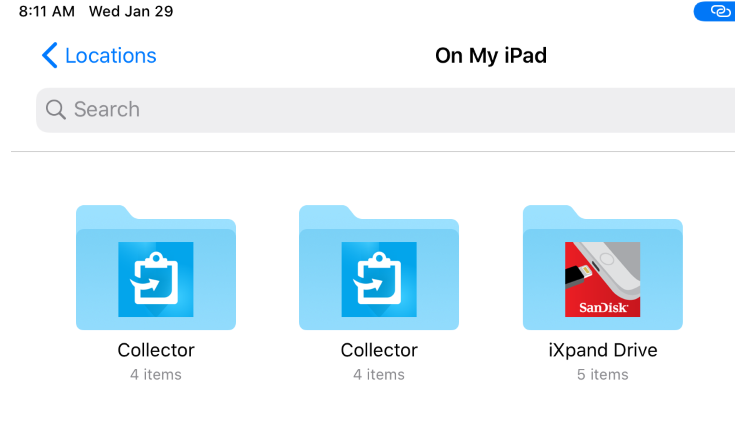 What I cannot see at all is the 123 data. Can this be opened up? Somehow Collector was able to do it so I am hoping it is also possible for 123.
I tried a few other iOS file apps but all were the same. Open to ideas here. I heard a new way to access the files is coming to iOS just not sure when.
My other idea here is in the 123 app -> Settings -> Storage have a button "Copy database to another location". Then let me pick the sd card or USB stick location. How cool would this be! Even cooler let me set an auto backup interval. Seems like it would not be too difficult?
We could plug into a PC but carrying a computer all that way is not really an option.
I really appreciate any help here. It has become a sticky subject with contractors. Esp since even if they can sync wifi AGOL has no backup service either (which always seemed weird - yes I have a script but with 30-40 feature services it can take days). We also have trouble backing up our forms due to their location.
Thanks a lot for any help.
1 Reply

by
DougBrowning

MVP Notable Contributor
Mark as New

Bookmark

Subscribe

Mute

Email to a Friend
Update that I have been successful at backing up a Collector .geodatabase file to a USB stick all offline. I could then create a GDB with the Copy Runtime tool no problem.
So is there anyway that 123 can open up the directory to the Files app like Collector does? I would think its possible if Collector found a way.
This would be huge for us to be able to backup an iPad offline without a PC.
thanks!!