New Contributor
Mark as New

Bookmark

Subscribe

Mute
Hello All-
I am creating a map tour for our lab that shows all of the locations of our research sites. I created a theme for the story map that matches our colors but I have notices that when I click within one project in the "explorer" layout, the "X" button that returns you to the grid of all of our site matches the color of the them and it is very difficult to see, making the user trapped within the scroll rather than being able to return to the grid explorer view.
The button color that I created within the theme is a totally different color, but it seems to not use that button color in this instance.
Grid View: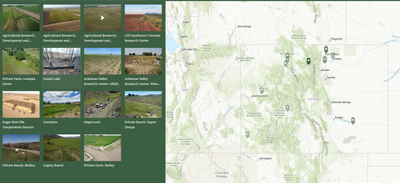 Detailed View That traps users: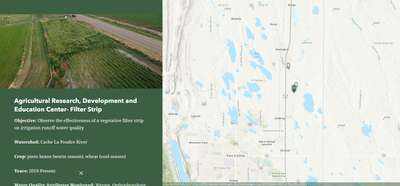 Not the "X" at the bottom right corner that is really difficult to see. I wish I could edit this button to even add a white ring around the button that is featured in other media tour features.
Does anyone have a solution for this? I do not want to change the theme of this story map.
Here is a link to the storymap that I am referencing.
1 Reply

Occasional Contributor
Mark as New

Bookmark

Subscribe

Mute
Hi @jrhollis! In instances like this where I'm worried about people not noticing buttons, tools, etc. I like to add a little comment. Ex: You could put a note right before the map tour that says "To return to the overview map during the Map Tour, click the green X button." And then you could have an image of the button or a screenshot highlighting it. This isn't a perfect solution, but it's an option!