New Contributor II
Mark as New

Bookmark

Subscribe

Mute

Email to a Friend
Hi -
I understand that principle components are calculated such that the first explains the greatest amount of variation in a dataset, the second PC explains the greatest amount of remaining variation, and so on. I understand PCs are uncorrelated variables that retain information in the original dataset using reduced dimensions.
What I'm unclear on is what PCs mean in terms of the multiband raster output from the Principal Components tool. I can look at my Eigenvalues for each PC and determine how many to use to maintain the variation in my dataset, but I don't know how to interpret the PCs in raster form.
For example, here is PC1, with values ranging from 4.6 (red) to 0 (blue). What do these values mean? My best guess is that these values are 'distances' or errors from the PC1 axis.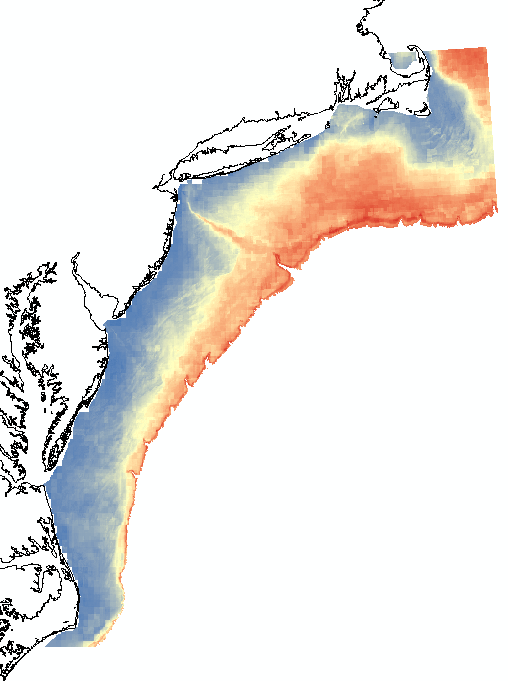 1 Solution

Regular Contributor
Mark as New

Bookmark

Subscribe

Mute

Email to a Friend
Hi Heather
The PCA summarises all of your data into the new axes that best explain the
variation found in your data set, with most of the variation being
explained in the first few axes (you probably already know all that).
But to figure out what the various axes actually represent, relating back
to your input raters, then I find it very useful to run the Band Collection
Statistics tool (Spatial Analyst Tools/Multivariate/Band Collection
Statistics).
For your input raster bands, add both your PCA exes and the various raster
bands that were used to create the PCA axes, and make sure to tick the
"Compute covariance and correlation matrices" tick-box. This will then
create a statistics text file where it calculates the correlation between
each of the PCA axes and the various raster files used as input (both
positive and negative correlations). So, for example, it will show that
altitude may have a correlation value of 0.99, mintempcoldmonth 0.90,
maxtempwarmmonth 0.91, etc.(this is from a real example) with PCA axis 2.
The input variables used in this example are inherently correlated as
temperature decreases with altitude and the PCA has nicely distilled all of
this this variation into a single axis.
So then you know what the pixels represent when interpreting your analysis.
Lastly, PCA needs to standardize the input variables so that it can compare
apples with apples, and so analyse altitude, rainfall, temperature,
vegetation indices, clay percentage, etc.(all which are corded on different
scales) into one PCA analysis.
I hope this helps.
Regards
Mervyn
5 Replies