by
Raul_Jimenez

Esri Contributor
Mark as New

Bookmark

Subscribe

Mute

Email to a Friend
Context info: I'm just trying to write some documentation about how to get the most out of ArcGIS Online Hosted Feature Servicesand I have some questions I'd need a little help with.
I following this workflow to join two layers and save them as a layer view. Trying to do some reverse engineering using Postman and I have found seven POST requests are made during this process (Postman collection with those requests).
I have explored these requests and I have some questions:
I have seen the first two requests are createService and addToDefinition, specifying "isView: true" and updating the service definition (view SD) to specify information about the query parameters themselves.

Is this enough to have a layer view fully functional??



The third request updates the item "properties" field with a JSON that includes a "jobUrl" set to: "https://analysis7.arcgis.com/arcgis/rest/services/tasks/GPServer/JoinFeatures/jobs/ViewJob_1570094204566",

When was this job created?, I have filtered my browser network tab by "/JoinFeatures/submitJob" and I haven't found any request.
Is this necessary? I make sense ... but I'm confused because I can't find when it is sent.



Fourth request is adding a JSON to the item's static resources with the name of the tool and parameters needed to run that tool (in this case: Join features)

Is this necessary for something?



Request 5, 6 and 7 are just update item metadata, thumbnail, tags, etc

I assume all these are optional too
Any help is more than welcome

. Thanks in advance,
Raul
1 Solution

by
Raul_Jimenez

Esri Contributor
Mark as New

Bookmark

Subscribe

Mute

Email to a Friend
I'm still not sure how to answer my previous questions, but I have been testing the requests and I made it work without using the jobUrl, adding the JSON to the static resources, etc.
I have created a Postman collection with all several requests I used in case you want to take a look at them: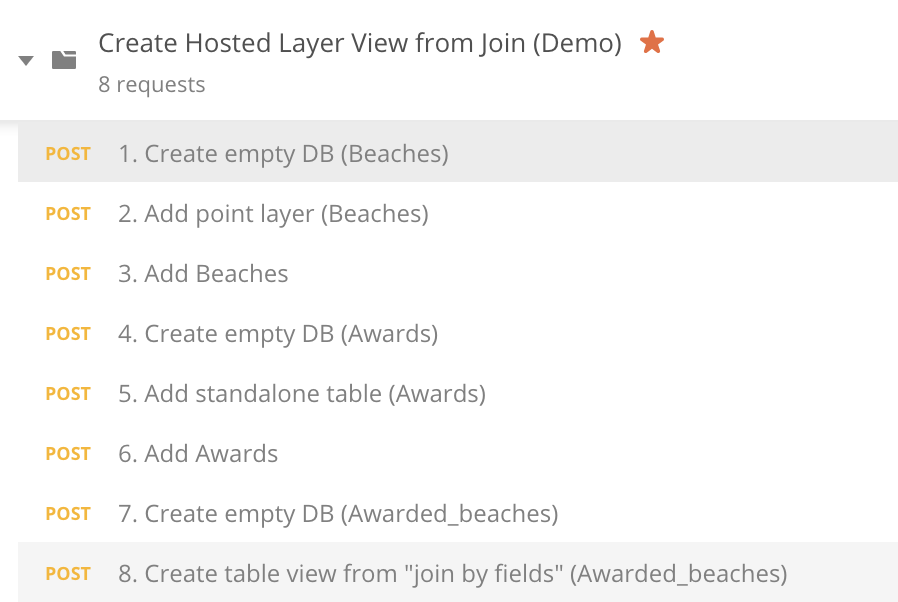 There are three

requests to create a brand new feature service (Awards) and populate it with data (requests: 4, 5 and 6):

This screenshot shows the Beaches awarded in 1955 by three different organizations


Also, three requests to create a brand new feature service (Beaches) and populate it with data

(requests: 1, 2 and 3)

:



These screenshots show the names for each Beach awarded in 1955 on the Beaches table


Two requests to create the feature layer view (Awarded_beaches) with a join (Beaches.BeachId = Awards.BeachId)

(requests: 7 and 8):



Here we can see the JOIN in action, and how we can see in the same table all the attributes from both tables.


So I'll check this question as solved

.
Thanks,
Raul
4 Replies