New Contributor
Mark as New

Bookmark

Subscribe

Mute
Hi,
I captured a video file using a DJI Phantom4 pro Drone using the ESRI Site Scan App for FMV (Full Motion Video) analysis. During the video capture, I set the camera in Nadir orientation (camera pointing straight down), Resolution set to be HD quality and flew the drone using the inspection flight option in the Site scan app. I exported the geospatial video flight log from the Site Scan App at the end of the flight.
I used the video multiplexer tool in Arc GIS Pro to attach the flight log to the RAW video file. The multiplex tool process was completed with a warning saying: The timestamp filed isn't according to the MISB format. As I found all of the tutorials on Youtube on Video multiplexer tool demonstrations have the same waring, I ignored the warning and proceeded with the process.
When I loaded the output video from the video multiplex tool on the ARC pro, nothing else appeared on the base map except for the platform trail and platform position (the center of the frame and frame outline were missing). I tried to do some area measurements while playing the video, but it gave me an error saying Error on converting video point to map point.
I also tried to export some frames from the video, and it exported the frames which didn't contain any projection or coordinate system. After considering all of the errors I have encountered during the FMV analysing process, the video multiplexer tool could not adequately georeference the video.
Attached is the Flight log that I have obtained from the Site Scan App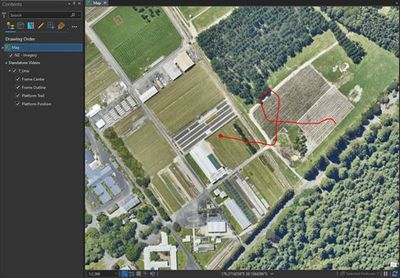 @CodyBenkelman could you please have a look on my issue?
1 Solution

New Contributor
Mark as New

Bookmark

Subscribe

Mute
4 Replies