New Contributor II
Mark as New

Bookmark

Subscribe

Mute
UPDATE: Moved question to ArcGIS Pro SDK and mentioning Uma Harano‌ as the author of the embedded toolbox article.
I'm following the instructions to embed a toolbox in arcgis pro here, but am getting mixed results. In Visual Studio I've created the esriAddinX with the .tbx, and after starting Pro I can see it has correctly extracted the toolbox into %LocalAppData%\ESRI\ArcGISPro\Toolboxes\GUID\. So far so good.
I'm expecting to see my addin's toolbox listed in Pro's system Geoprocessing toolboxes as per instruction 13 in the guide, but I don't. What am I missing? I've verified that the extracted toolbox is good, and I've populated everything in the .tbx like alias, name, description, etc.
I haven't tried a python toolbox because I want to have toolsets, but if someone knows the .pyt works, then please let me know and I'll go with that. Any ideas/samples will be greatly appreciated. I'm using ArcGIS Pro 2.4.1.
This screenshot is attempting to show the esriAddinX contents being correctly extracted.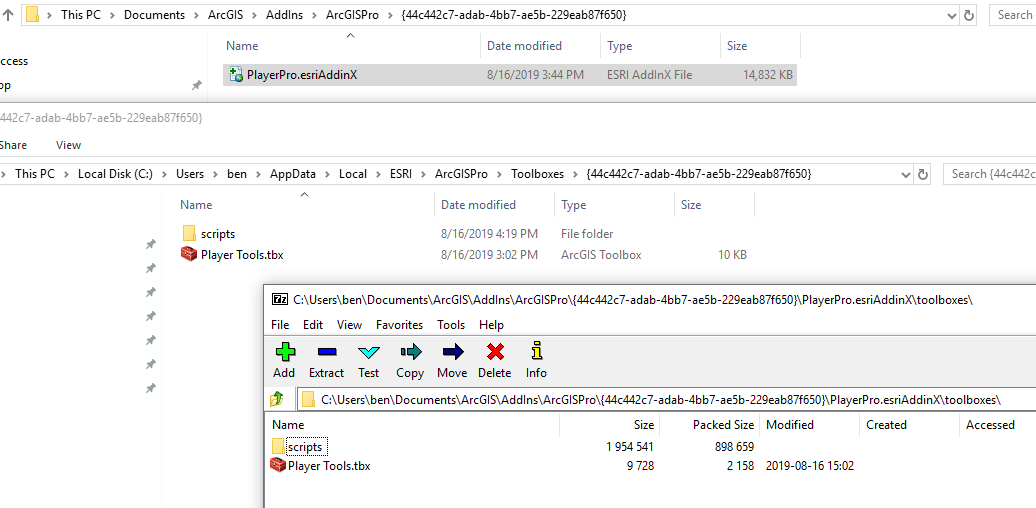 1 Solution

Esri Contributor
Mark as New

Bookmark

Subscribe

Mute
Hi ben,
i think your add-in may not be following the expected folder structure. Review step3 in the embedding toolboxes add-in doc. Your toolbox should go under Toolboxes/toolboxes along with (optional) other folders.
Below is the directory structure for the add-in i created.
cheers
\---Toolboxes

    +---arcpy
    |       DeepThought.py
    |
    +---help
    |   \---gp
    |       |   Answer_deepthought.xml
    |       |   deepthought_toolbox.xml
    |       |
    |       +---messages
    |       |       messages.xml
    |       |
    |       \---toolboxes
    |               DeepThought.xml
    |
    \---toolboxes
            answer.py
            DeepThought.tbx
            sixbynine.py
 
7 Replies