New Contributor II
Mark as New

Bookmark

Subscribe

Mute
Hello, Esri Team
I trying to create programmatically in ArcGIS Pro SDK C#, a Button that create a map frame with basic properties of the map grid in c# (Border width of MapFrame, Coordinate System of Grid, Line width of Ticks, Font Style of Labels, Visible Labels, Interval of gridlines).
I have been looking for examples of how to set this basic properties for the map grid on the internet (Esri Community, github Esri, Google, stackexchange, chatgpt) but i cant find it.
So I need some basic examples to set this basic properties of the mapgrid:
MapFrame>Display>Border>Symbol=(2 pt)
Grid>Coordinate System=(Any Example)
Grid>Ticks>Symbol>Appearance>Line width=(2 pt)
Grid>Labels>General>Appearance>Font Style=(Bold)
Grid>Components>labels>Visible=(North, South, East, West)
Grid>Components>gridlines>Interval=(x=50000,Y=5000)
I attach a screenshot of what i need (mapframe with mapgrid)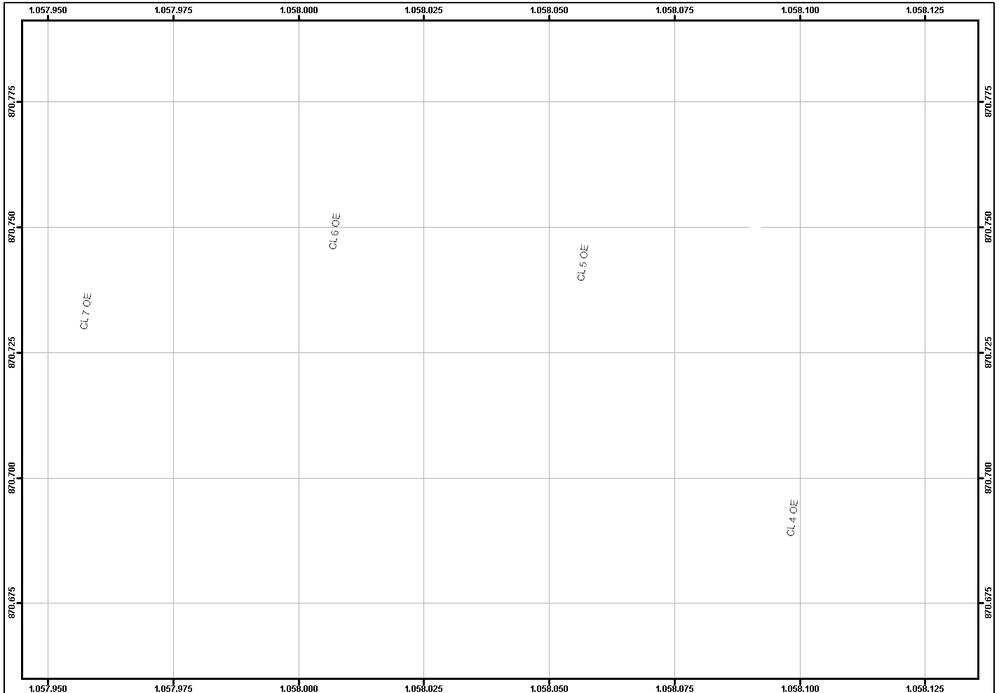 1 Solution

New Contributor II
Mark as New

Bookmark

Subscribe

Mute
I already develop the correct code. This is the code. thanks.
protected override async void OnClick()
        {
var mapView = MapView.Active;
            if (mapView != null)
            {
                var mapvieEx = mapView.Extent;//PRUEBA OPTIENE EXTEND

                Layout newLayout = await QueuedTask.Run<Layout>(() =>
                {
                    // Create a new CIM page
                    CIMPage newPage = new CIMPage();
                                                           
                    //ORIGINAL EN PULGADAS
                    newPage.Width = 27.94;
                    newPage.Height = 21.59;
                    // newPage.Units = LinearUnit.Inches;
                    newPage.Units = LinearUnit.Centimeters;
                    
                    // Add rulers-POSIBLE QUITAR
                    newPage.ShowRulers = true;
                    newPage.SmallestRulerDivision = 0.5;
                              
                    // Apply the CIM page to a new layout and set name
                    newLayout = LayoutFactory.Instance.CreateLayout(newPage);
                    newLayout.SetName("Layout Carta-Acueducto");
                
                    return newLayout;
                });

                var layoutPane = await ProApp.Panes.CreateLayoutPaneAsync(newLayout);



await QueuedTask.Run(() =>//en el ejemplo no tenia el wait
                {

                    //1. create a map frame
                    //aquire a map
                    var mapItem = Project.Current.GetItems<MapProjectItem>().First();
                    var map = mapItem.GetMap();

                    var ll = new Coordinate2D(0.4907, 2.4994);
                    var ur = new Coordinate2D(27.5, 21.0997);
                    var env = EnvelopeBuilderEx.CreateEnvelope(ll, ur);


                    //create the map frame
                    var map_frame = ElementFactory.Instance.CreateMapFrameElement(newLayout, env, map);
                    // map_frame.SetWidth(2);//PRUEBA
                    //SE BUSCA GENERAR UN GRID DEL TIPO MEASURED GRID-IMPORTANTEE


                    
                    //INICIO PRUEBA PROPIEDADES MAPFRAME

                    //primero agregar las GridLines (lineas, ticks(linea del label), label) segun ejemplo addgrid.cs
                    var gridLinesEastWest = new CIMGridLine
                    {
                        Name = "GridLines",
                        ElementType = GridElementType.Line,
                        GridLineOrientation = GridLineOrientation.EastWest,
                        Symbol = (SymbolFactory.Instance.ConstructLineSymbol(ColorFactory.Instance.BlackRGB, 0.5, SimpleLineStyle.Solid)).MakeSymbolReference(),
                        Pattern = new CIMGridPattern
                        {
                            Interval = 5000, //CADA VEZ Q SE REPITE
                            Start = 0,
                            Stop = 1,
                            Gap = 0
                        }
                    };
                    var gridLinesNorthSouth = new CIMGridLine
                    {
                        Name = "GridLines",
                        ElementType = GridElementType.Line,
                        GridLineOrientation = GridLineOrientation.NorthSouth,
                        Symbol = (SymbolFactory.Instance.ConstructLineSymbol(ColorFactory.Instance.BlackRGB, 0.5, SimpleLineStyle.Solid)).MakeSymbolReference(),
                        Pattern = new CIMGridPattern { Interval = 5000, Start = 0, Stop = 1, Gap = 0 }
                    }; var gridTicksNorthSouth = new CIMGridLine
                    {
                        Name = "Ticks",
                        ElementType = GridElementType.Tick,
                        GridLineOrientation = GridLineOrientation.NorthSouth,
                        Pattern = new CIMGridPattern { Interval = 5000, Start = 0, Stop = 1, Gap = 0 },
                        //ORIGINAL FromTick = new CIMExteriorTick { Length = 0.0694, Offset = 0, IsVisible = true, Symbol = (SymbolFactory.Instance.ConstructLineSymbol(ColorFactory.Instance.BlackRGB, 0.5, SimpleLineStyle.Solid)).MakeSymbolReference(), },
                        FromTick = new CIMExteriorTick { Length = 0.0694, Offset = 0, IsVisible = true, Symbol = (SymbolFactory.Instance.ConstructLineSymbol(ColorFactory.Instance.BlackRGB, 2, SimpleLineStyle.Solid)).MakeSymbolReference(), },
                        ToTick = new CIMExteriorTick { Length = 0.0694, Offset = 0, IsVisible = true, Symbol = (SymbolFactory.Instance.ConstructLineSymbol(ColorFactory.Instance.BlackRGB, 2, SimpleLineStyle.Solid)).MakeSymbolReference(), },
                    };
                    var gridTicksEastWest = new CIMGridLine
                    {
                        Name = "Ticks",
                        ElementType = GridElementType.Tick,
                        GridLineOrientation = GridLineOrientation.EastWest,
                        Pattern = new CIMGridPattern { Interval = 5000, Start = 0, Stop = 1, Gap = 0 },
                        //ORIGINAL FromTick = new CIMExteriorTick { Length = 0.0694, Offset = 0, IsVisible = true, Symbol = (SymbolFactory.Instance.ConstructLineSymbol(ColorFactory.Instance.BlackRGB, 0.5, SimpleLineStyle.Solid)).MakeSymbolReference(), },
                        FromTick = new CIMExteriorTick { Length = 0.0694, Offset = 0, IsVisible = true, Symbol = (SymbolFactory.Instance.ConstructLineSymbol(ColorFactory.Instance.BlackRGB, 2, SimpleLineStyle.Solid)).MakeSymbolReference(), },
                        ToTick = new CIMExteriorTick { Length = 0.0694, Offset = 0, IsVisible = true, Symbol = (SymbolFactory.Instance.ConstructLineSymbol(ColorFactory.Instance.BlackRGB, 2, SimpleLineStyle.Solid)).MakeSymbolReference(), },
                    };


                    var gridLabelsEastWest = new CIMGridLine
                    {
                        Name = "Labels",
                        ElementType = GridElementType.Label,
                        GridLineOrientation = GridLineOrientation.EastWest,
                        Pattern = new CIMGridPattern { Interval = 5000, Start = 0, Stop = 1, Gap = 0 },
                        FromTick = new CIMExteriorTick
                        {
                            Length = 0.0694,
                            Offset = 0,
                            IsVisible = true,
                            GridEndpoint = new CIMGridEndpoint
                            {
                                GridLabelTemplate = new CIMSimpleGridLabelTemplate
                                {
                                   //ORIGINAL DynamicStringTemplate = "<dyn type=\"grid\" units=\"dms\" decimalPlaces=\"0\" showDirections=\"True\" showZeroMinutes=\"False\" showZeroSeconds=\"False\"/>",
                                    DynamicStringTemplate = "<dyn type=\"grid\" units=\"\" decimalPlaces=\"0\" showDirections=\"False\" showZeroMinutes=\"False\" showZeroSeconds=\"False\"/>",
                                    //TODO
                                    //ORIGINAL Symbol = (SymbolFactory.Instance.ConstructTextSymbol(ColorFactory.Instance.BlackRGB, 7, "Tahoma", "Bold")).MakeSymbolReference()
                                    Symbol = (SymbolFactory.Instance.ConstructTextSymbol(ColorFactory.Instance.BlackRGB, 7, "Tahoma", "Bold")).MakeSymbolReference()
                                },
                                Offset = 0.083,
                                Position = 2, // A QUE POSICION SE REFIERE
                                LineSelection = 7
                            }
                        },
                        ToTick = new CIMExteriorTick
                        {
                            Length = 0.0694,
                            Offset = 0,
                            IsVisible = true,
                            GridEndpoint = new CIMGridEndpoint
                            {
                                GridLabelTemplate = new CIMSimpleGridLabelTemplate
                                {
                                   // DynamicStringTemplate = "", //TODO                               
                                    DynamicStringTemplate = "<dyn type=\"grid\" units=\"\" decimalPlaces=\"0\" showDirections=\"False\" showZeroMinutes=\"False\" showZeroSeconds=\"False\"/>",
                                    //ORIGINAL   Symbol = (SymbolFactory.Instance.ConstructTextSymbol(ColorFactory.Instance.BlackRGB, 7, "Tahoma", "Regular")).MakeSymbolReference()
                                    Symbol = (SymbolFactory.Instance.ConstructTextSymbol(ColorFactory.Instance.BlackRGB, 7, "Tahoma", "Bold")).MakeSymbolReference()
                                },
                                Offset = 0.083,
                                Position = 2, //AQUE POSICION SE REFIERE
                                LineSelection = 7
                            }
                        }
                    };
                    var gridLabelsNorthSouth = new CIMGridLine
                    {
                        Name = "Labels",
                        ElementType = GridElementType.Label,
                        GridLineOrientation = GridLineOrientation.NorthSouth,
                        Pattern = new CIMGridPattern { Interval = 5000, Start = 0, Stop = 1, Gap = 0 },
                        FromTick = new CIMExteriorTick
                        {
                            Length = 0.0694,
                            Offset = 0,
                            IsVisible = true,
                            GridEndpoint = new CIMGridEndpoint
                            {
                                GridLabelTemplate = new CIMSimpleGridLabelTemplate
                                {
                                   //ORIGINAL DynamicStringTemplate = "<dyn type=\"grid\" units=\"dms\" decimalPlaces=\"0\" showDirections=\"True\" showZeroMinutes=\"False\" showZeroSeconds=\"False\"/>", //TODO
                                    DynamicStringTemplate = "<dyn type=\"grid\" units=\"\" decimalPlaces=\"0\" showDirections=\"False\" showZeroMinutes=\"False\" showZeroSeconds=\"False\"/>", //TODO                                                                                                                                                              //
                                    Symbol = (SymbolFactory.Instance.ConstructTextSymbol(ColorFactory.Instance.BlackRGB, 7, "Tahoma", "Bold")).MakeSymbolReference()
                                },
                                Offset = 0.083,
                                Position = 2, // A QUE POSICION SE REFIERE
                                LineSelection = 7
                            }
                        },
                        ToTick = new CIMExteriorTick
                        {
                            Length = 0.0694,
                            Offset = 0,
                            IsVisible = true,
                            GridEndpoint = new CIMGridEndpoint
                            {
                                GridLabelTemplate = new CIMSimpleGridLabelTemplate // se podria quitar para ver texto estandar
                                {
                                   //ORIGINAL DynamicStringTemplate = "", //TODO                               
                                    DynamicStringTemplate = "<dyn type=\"grid\" units=\"\" decimalPlaces=\"0\" showDirections=\"False\" showZeroMinutes=\"False\" showZeroSeconds=\"False\"/>", //Ejemplo de otras unidades units=\"{gridUnits}\"
                                    Symbol = (SymbolFactory.Instance.ConstructTextSymbol(ColorFactory.Instance.BlackRGB, 7, "Tahoma", "Bold")).MakeSymbolReference()
                                },
                                Offset = 0.083,
                                Position = 2, // A QUE POSICION SE REFIER
                                LineSelection = 7
                            }
                        }
                    };




                    var projectedCoordinateSystem = map_frame.Map.SpatialReference.ToCIMSpatialReference() as ProjectedCoordinateSystem;

                    CIMMapGrid mapGrid = new CIMMeasuredGrid
                    {
                        
                        Name = "El_MapGrid",
                        GridLines = new CIMGridLine[] { gridLinesEastWest, gridLinesNorthSouth, gridTicksNorthSouth, gridTicksEastWest, gridLabelsEastWest, gridLabelsNorthSouth },
                        IsVisible = true,
                        NeatlineSymbol = (SymbolFactory.Instance.ConstructLineSymbol(ColorFactory.Instance.BlackRGB, 0.5, SimpleLineStyle.Solid)).MakeSymbolReference(), //ES LA LINEA INTERIOR
                        ProjectedCoordinateSystem = projectedCoordinateSystem,//QUITAR LA COMA
                    };

                    var mapFrameDefinition = map_frame.GetDefinition();
                    CIMMapFrame cimMapFrame = mapFrameDefinition as CIMMapFrame;
                    cimMapFrame.Grids = new CIMMapGrid[] { mapGrid };

                    //PRUEBA CAMBIO BORDER SIZE
                    cimMapFrame.GraphicFrame.BorderSymbol = (SymbolFactory.Instance.ConstructLineSymbol(ColorFactory.Instance.BlackRGB, 2, SimpleLineStyle.Solid)).MakeSymbolReference();
                    
                    map_frame.SetDefinition(mapFrameDefinition);
                    //FIN PRUEBA PROPIEDADES MAPFRAME
                    //var mapvieEx = MapView.Active.Extent;
                    map_frame.SetCamera(mapvieEx);//OJO- SE OBTIENE TAMANO DE VENTANA
                });

                

                MessageBox.Show("Layout Creado con DataFrame.");
            }
            else
            {
                MessageBox.Show("Primero se debe Seleccionar la Ventana del Mapa (MapView).");
            }
        }
5 Replies