New Contributor II
Mark as New

Bookmark

Subscribe

Mute

Email to a Friend
Apologies in advance for asking for help on something very basic.
I've got a gdb containing many many layers. I need to grab just a couple of fields out of each layer and merge them all together into a single layer. Fields across layers have different names but the same content. I'm wanting to do it all in a Python notebook because I need to document every little step. I'm coming from R and this would be a breeze there. But struggling to learn basic data management in arcpy.
Anyway, I'm failing in the first step just trying to delete fields in a newly created layer. My guess: I'm supposed to be working with a 'Table' and instead I'm working with a 'Feature Layer'...y'all can tell me whether that's right.
Here's what I've done so far. First, I set my workspace to the gdb containing all the layers. Then I'm creating the feature layer in-memory that will be the ultimate output layer:
arcpy.management.MakeFeatureLayer('Brighton_Zoning', 'out_layer')
('Brighton_Zoning' is one of the layers in the gdb).
Now, there's only four fields I'm ultimately going to want in out_layer: ZONE_ABBR, ZONING, MUNICIPALITY and SHAPE. But what I just did above is put ALL the fields from Brighton_Zoning (there are a lot) into 'out_layer'. So next step is to delete all those excess fields. So let's just try this one at a time...we'll start with a field called 'OBJECTID_12'. Here we go
arcpy.DeleteField_management("out_layer", "OBJECTID_12")
And...that throws an error: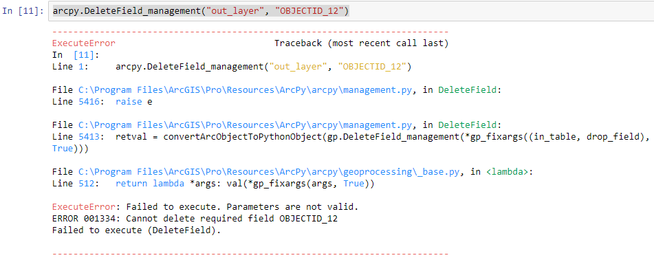 I've tried this with several of the other field names. Also tried it with a list of the field names. Also tried it with single quotes instead of double quotes.
Clearly, there's something very very very basic about ArcGIS I do not understand.
I need to read a book about it! Oh wait, I did! I read this: https://www.amazon.com/Python-Scripting-ArcGIS-Paul-Zandbergen/dp/1589484991/ref=sr_1_4?dchild=1&key...
That's the recommend book from esri on arcpy. But here's the thing...it teaches you how to modify data row-by-row (i.e. arcpy.da with cursors). It doesn't teach how to manage the structure of entire tables/features/datasets.
So if anyone knows of a book that teaches how to data munge in arcpy (i.e. manipulate fields, table joins, row binds, etc. etc.) please point me that way!
And if you can explain the error above, please do!
Thanks!
7 Replies