Occasional Contributor II
Mark as New

Bookmark

Subscribe

Mute

Email to a Friend
ArcGIS Pro 2.7. Windows 10.
In the folder- C:\Users\<user>\AppData\Local\Temp
I have a huge amount (almost 40,000, 200GB) of *.geodatabase files. These are not clearing when ArcGIS Pro shuts down or when I turn off/restart my PC. I haven't noticed my internal drive fill up so quickly before, but realised my storage space depleting after installing the 2.7 update to Pro last week.
All the .geodatabase files have been created in the last week (since the 9th Jan 2021 all the way up until today, when I haven't even opened Pro!) and are anywhere between 200KB or so, to 62mb in size each.
Watching the folder now, I can see the odd .geodatabase-journal and .geodatabase-conch files pop up and disappear momentarily, and I'm not even running Pro when I see this (the only Arc related process running is ArcGISIndexingServer). Seems like these files are mobile geodatabase (new since Pro 2.7) SQLite temp files.
What are the .geodatabase files though? Are they specific to the 2.7 update? Why are they clogging my machine and not being removed automatically after sessions? Can I manually delete them safely? Will they just come back after anyway? It must be a bug of sorts.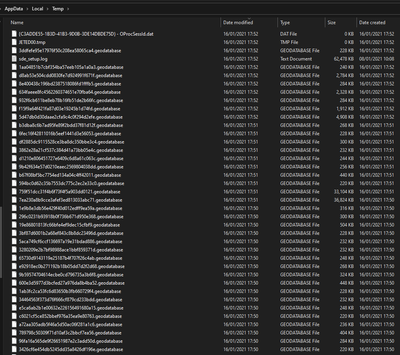 Thanks.
25 Replies