New Contributor
Mark as New

Bookmark

Subscribe

Mute
I need to have several rasters with the exact same extent so I can create a raster stack with them in R. Theoretically this should be simple and I should be able to clip them all using the same clip feature and their extents will be identical. Unfortunately, this is not working. I have a polygon I'm using to clip them, using Clip Raster, but after clipping when I check the extent it's not the same as the clipping polygon, and my different rasters have different extents after using the exact same polygon to clip them. They are off by a handful of meters, and to the eye look identical, but they are not. Any insight into what's happening here would be appreciated.
Alternatively, is there a way to manually input the extent for a raster? I don't care if the edges have "NODATA" I just need them to all be the same so R will stack them.
I'm running ArcGIS Pro 2.8.2, and all rasters are in the same projected coordinate system.
1 Solution

MVP Esteemed Contributor
Mark as New

Bookmark

Subscribe

Mute
You could run Clip Raster in batch.
Ensure you check the following check-boxes.

In Environments, ensure you choose one of the Raster layers as Snap Raster.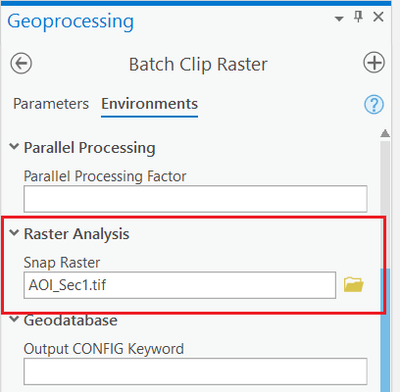 Think Location
4 Replies