New Contributor II
Mark as New

Bookmark

Subscribe

Mute

Email to a Friend
Hi all,
I am trying to form symbology to look the same as the upper value (with the less than or equal to sign) except with fewer significant figures. I used to be able to do this easily but not it seems to default to a range of values and I have no idea how to get around this.
Any Suggestions?
Thank you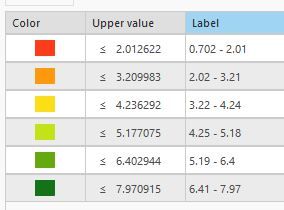 2 Replies

Occasional Contributor III
Mark as New

Bookmark

Subscribe

Mute

Email to a Friend
You should be able to just double-click the layer cell and manually enter the values you want displayed.
You can also click around some of the options when setting your symbology to manually set the values that you separate it by. I'm sorry, I'm unable to open Pro right now or else I would give more concrete examples.

New Contributor II
Mark as New

Bookmark

Subscribe

Mute

Email to a Friend
Hi Alfred,
That does work and I guess since I only have a few legends to edit, that's what I will do. However, if I try to modify the symbology at all, it will revert back to the number ranges and I would have to start over. I think this started after I updated Arc Pro. They added significant figure adjustments to the main tab which was nice (removing 6 0s), but then they added value ranges which just makes legends bulky.