Occasional Contributor III
Mark as New

Bookmark

Subscribe

Mute
I would like to draw a leader from my extent indicator to the second map frame, but the option is greyed out. I couldn't find any documentation about why that might be. What do I need to change for this to work?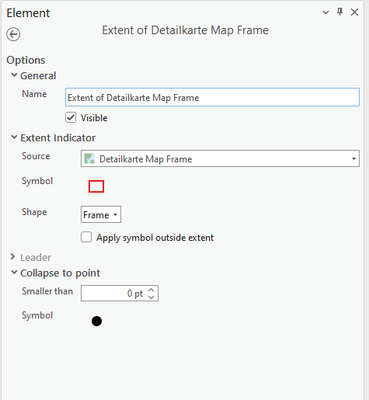 3 Replies

Esri Contributor
Mark as New

Bookmark

Subscribe

Mute
That option gets disabled when the extent indicator area is larger than the visible map frame area. Since the extent indicator is too large to draw you can't add a leader line. So in the picture below if I try to add an extent indicator to map frame 1 showing the extent of map frame 2, that extent indicator won't draw on the map because the area of map frame 2 is more extensive than that of map frame 1. In that case my leader option becomes disabled.
If I had an extent indicator to map frame 2 showing the extent of map frame 1 then the extent indicator draws as expected and I can add a leader.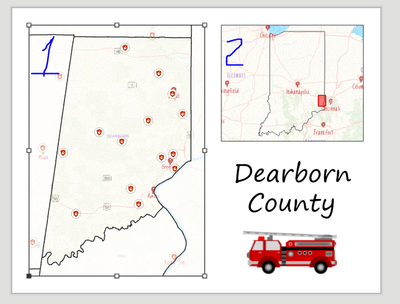 With that in mind the first thing I suggest is checking that your extent indicator is pointing to the right map frame. If that doesn't solve the problem you might try readding it altogether, it's possible Pro got stuck in a weird state and just needs to redo the extent indicator operation to get out of it.
Cheers,
Aubri
Cheers,
Aubri

Occasional Contributor III
Mark as New

Bookmark

Subscribe

Mute
No, the extent is definitely smaller - it shows as expected on the map, no problem. I tried to remove the extent indicator but it keeps happening when I add it again. Weird thing is, I can add a leader by right clicking on the extent in the TOC, choosing "Remove leader" (which adds the leader). "Add leader" removes it. I can't change any properties though and it is still greyed out under "Element". Seems like a bug to me?

by
TomBole

Esri Regular Contributor
Mark as New

Bookmark

Subscribe

Mute
Hi Illkallers1,
I can repro the inconsistent commands/results in the Contents pane (TOC) using Pro version 3.0. However, I cannot reproduce the original issue of leader lines being disabled. I agree with @AubriKinghorn that it is likely that your map frame got into a weird state.
I would agree that this is a bug. Unfortunately, it may be specific to your data/project/workflow. Are you able to reproduce the disabled leader with a new project/map frame/layout?
Can you contact Esri Support? They are better equipped to handle troubleshooting steps and gather bug data. They can be contacted at https://support.esri.com/en/contact-tech-support.
Thanks,
Tom