New Contributor II
Mark as New

Bookmark

Subscribe

Mute
Hi All,
I am working to export time-enabled (year level) data as a webmap to ArcGIS Online. However, when exporting my map to ArcGIS Online, my year fields are converted to mm/dd/yyyy hh:mm:ss.s and then lose 7 or 8 hours (I'm located on the west coast, so this seems to be UTC-8). Attached are two screenshots between ArcGIS Pro and AGOL.
For reference, the initial data was uploaded in XLSX format, then XY points and lines were created. The data type is listed as Double, despite the field only containing 4 visible digits (See third screenshot).
I have tried multiple conversion types using the convert time field tool that all wind up reconverted to mm/dd/yyyy hh:mm:ss.s - 8 hours after export:
YYYY to date; time zone issue persists
YYYY to mm/dd/yyyy; time zone issue persists
Time YYYY to text YYYY; time zone issue persists
Time YYYY to SHORT YYYY; time zone issue persists
I have also tried:
Changing the time extent in the time tab for layer properties for the feature points and lines to 6/15/yyyy, but the time zone issue persists
Changing the data itself to 6/15/yyyy, but the data is imported as YYYY then converted to 12/31/yyyy 4:00pm of previous year when exported to AGOL.
Thank you in advance for anyone's help...I'm getting pretty desperate here as I've been struggling with this for a week. It is the last piece of a public history project that is practically complete...
1 Solution

by
jcarlson

MVP Honored Contributor
Mark as New

Bookmark

Subscribe

Mute
Oh, that is strange.
Could you just do a field calculation to update all the AGOL data? It's not a perfect solution, but it's at least an easy one. You can calculate the field directly in AGOL, from the layer's Data tab.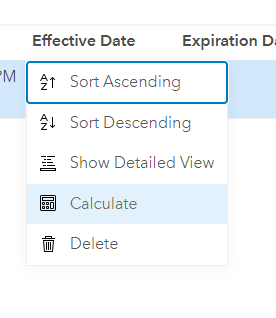 Then just use a SQL expression like date_start + 1, which will add 1 day to the current value. Just swap "date_start" for whatever the field name really is.
- Josh Carlson
Kendall County GIS
4 Replies