New Contributor III
Mark as New

Bookmark

Subscribe

Mute
I have a layer that is connected to a feature class stored in a SQLite database. If I open the Attribute Table for this layer, the ROUTE_TYPE field is set to 0 for every row.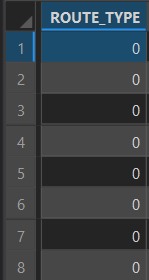 However, I know that there are actually no rows in this dataset that have ROUTE_TYPE = 0. If I open the Table for the source feature class directly in the Catalog pane, all rows are non-zero (in this case the top 8 rows have value '1'.

I have used an external SQLite browser tool and confirmed this field only takes unique values 1-7, no 0 values.
The query for the layer is just this below. The only way I have been able to fix this issue is to replace the explicit selection of ROUTE_TYPE in the SQL query with just 'SELECT *', and then the values appear to display correctly in the Attributes Table.
SELECT ROUTE_TYPE from main.Roads
I am just wondering if anyone else has experienced this? I am not sure if there is a strange bug here or I am doing something wrong.
6 Replies