Occasional Contributor II
Mark as New

Bookmark

Subscribe

Mute
Hello,
I would like to know if it is possible to change the search (locate) defaults in ArcGIS Pro. Clicking the search button opens up the locate tool with the locate option. This option uses a Geocoder. In order to search for an attribute we need to further click on Layer Search. Then if we want to search for part of a string then we need to change match exact to match any part. Best of all these options reset if we accidentally close the locate window. This is very frustrating that we need to click on Search-->Layer Search-->Match Any Part.
Question: Is there an easier way to search for partial match attribute searches without going through cumbersome menus?
Thanks
By default I would like to change the functionality so that I can click on search and then type in the partial text that i need (circled in red) as opposed to interacting with EVERY item that is highlighted.
Thanks!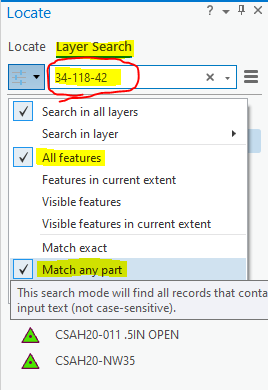 When we click on the search button In ArcGIS Pro
1 Reply

New Contributor
Mark as New

Bookmark

Subscribe

Mute
I am trying to do the same thing. Did you ever find a way?