New Contributor II
Mark as New

Bookmark

Subscribe

Mute
I'm using ArcGIS Pro 2.5.2, but this has been a problem for at least a year,\ now. When I add a tiff or tif file to a map to be georeferenced and fit it to display, it appears correctly. When I place the first control point the image shifts to fit as expected. When I place the second control point the image either turns completely and irreparably transparent or shoots off thousands of miles in a random direction. This happens to about a third of the images I attempt to georeference in ArcGIS Pro, and the only work around I've ever developed is to use ArcGIS Desktop instead. I've never noticed any pattern with what images bug out and what images work as intended. Restarting Pro has never helped, though on a couple of occasions I've had luck with replacing the image with a copy of itself and retrying the georeference process. Has anyone else had this issue? Have you found any solutions?
1 Solution

New Contributor III
Mark as New

Bookmark

Subscribe

Mute
--
Thank you for the suggestion, Alastair. Changing the primary symbology from "RGB" to "Stretch" improved but did not fully solve the issue of raster images disappearing - until I changed the Stretch Type to None under the Data tab. Then all of my georeferenced rasters would remain visible.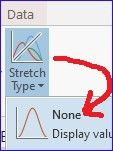 Stretch Type to None
(ArcGIS Pro 2.8.2)
Just wanted to mention this in case it may help anyone else with the issue.
--
6 Replies