New Contributor III
Mark as New

Bookmark

Subscribe

Mute

Email to a Friend
ArcGIS Pro 2.7
Hello,
I am trying to set up an attribute rule that will pull from the NAME field of a streets center line layer and populate it into a STREET field in the feature class I am adding the rule to. I know the same function does not exist in Attribute Rules as it does for NEAREST_FEATURE in Attribute Assistant, but I am trying to come up with an Arcade expression to do the same thing. The search distance I want to use is 100 ft. Attached is the snip of the code I started with but I keep getting an error.
Some guidance would be much appreciated!
1 Solution

by
XanderBakker

Esri Esteemed Contributor
Mark as New

Bookmark

Subscribe

Mute

Email to a Friend
Hi @AnnaPeters ,
I did a test with a local coordinate system and it will work with some minor adjustments: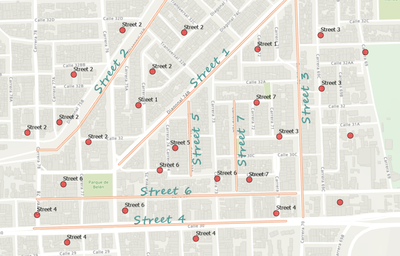 You will need to:
Use Buffer instead of BufferGeodetic
Use Distance instead of DistanceGeodetic
Place "var" before street in the for loop.
var streetLayer = FeatureSetByName($datastore, "streets_WGS_Project", ["NAME"]);
var searchDistance = 100;
var streetIntersect = Intersects(streetLayer, Buffer($feature, searchDistance, "feet"));
var cnt = Count(streetIntersect);

var minDistance = Infinity;
var name = Null
if (cnt > 0) {
    for (var street in streetIntersect) {
        var dist = Distance(street, $feature, "feet");
        if (dist < minDistance) {
            name = street.NAME;
            minDistance = dist
        }
    }
} else {
    // pass no features found within search distance, name remains null
}

return name;
4 Replies