New Contributor
Mark as New

Bookmark

Subscribe

Mute

Email to a Friend
I am a veteran ArcMap 10.x user, and am very used to the "old" Arc way of doing things. I've recently started to dabble in Pro and am having some issues with the Analysis tools.
We are working on some travel time studies, and realized that the Summarize Nearby tool would suit our needs. Pre-update (when we just had Pro 1.0) everything worked perfectly. We would open the tool, set our parameters, click run, and the results would pop up right on the map.
Now that Pro has updated to 1.1, we have no results. We set the parameters just the same, click run, and Pro reports that it was successful and tells us where the new file is supposed to be, but nothing comes up on the map. I figured it was just a little error, but when I followed the path to the folder and geodatabase where the new feature should have been saved, I found nothing. It's like Pro thinks that it is correctly running the command and providing results, but it's not.
Is anyone else having any issues with this? I've not tried to run anything else, so I don't know what else may or may not be working. We have tried using the Summarize Nearby on two separate computers, and neither is working, so we think it is an issue with the software.
Any ideas on how to work through this? We are definitely open to any suggestion!
Here is where it's showing us that it ran and was successful: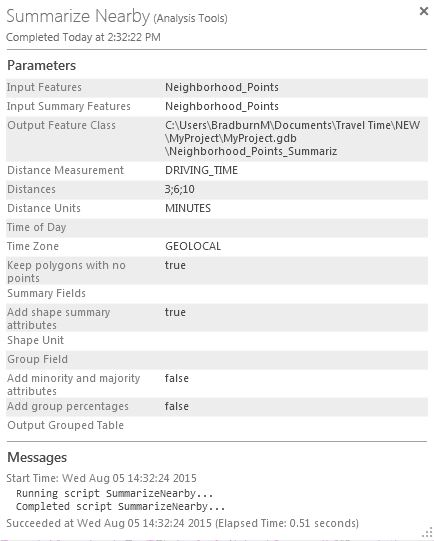 Here's the geodatabse that it is supposedly being added to, but it's not there: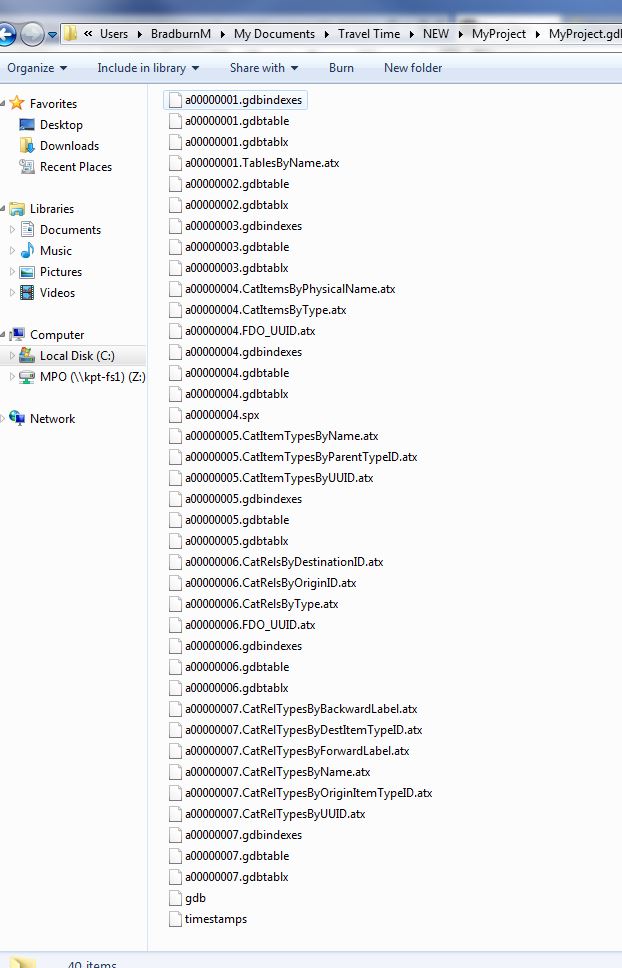 1 Solution

by
KoryKramer

Community Moderator
Mark as New

Bookmark

Subscribe

Mute

Email to a Friend
This is caused by having SSL enabled on the ArcGIS Online organization account.
We have just logged the following bug after testing this: [BUG-000089918 : In ArcGIS Pro, when the Summarize Nearby tool is run using a drive time or drive distance, the tool result says that it completed successfully, but no output is generated when the user's ArcGIS Online organization is set to use SSL only.]
If you are not able to change the ArcGIS Online organization's settings to not use SSL, here is a workaround that should work:
1. Make a server connection to http://logistics.arcgis.com/arcgis/services.
2. From that connection, in the World/ServiceAreas toolbox, open the GenerateServiceAreas tool.
3. Run that tool to generate the desired service areas.
4. Then run the Summarize Within tool using the service area polygons as the Input Polygons and the point features as the Input Summary Features.
This workflow should work even with SSL enabled on the ArcGIS Online organization.
9 Replies