New Contributor III
Mark as New

Bookmark

Subscribe

Mute
We are hoping to anonymously track parking behavior in several two-hour parking areas by reading license plates at various times in a day and recording how often individual vehicles move. I believe we should be able to do this with python code that reads each license plate and saves it as a variable containing random characters. Then, if is reads the same license plate later in the data set, it will "remember" it and change it to the same set of characters. We should do this for both the "State" Field and the "Number" field. I think I should be able to do this in the field calculator.
1 Solution

Regular Contributor
Mark as New

Bookmark

Subscribe

Mute
That would almost work in a CalculateField code block. The license plate comes into the function as "a", and a.encode() is doing some conversion thing to the string so that it's acceptable to hashlib. That is "a" is the string variable that will have the original license plate in it.
Here is my screenshot.
Yes, every time you run the plate through the hash function, the result will be the same.
If you want to keep the contents of the column so you can re-run it instead of transforming once and all the original plates are gone forever it would look like this, you can see the table has 2 columns "plate" and "encrypted" and I am doing the Calc on the "encrypted" column and feeding the "fn()" function with the contents of the "plate" column.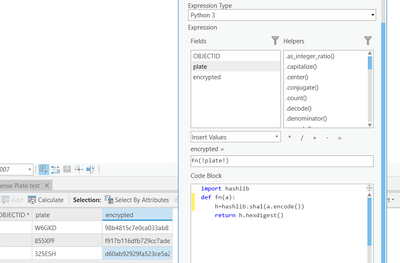 I almost always try to write expressions so that I can run and rerun them on the same dataset as I debug the code so I don't lose the original data.
TL;DR About the math, the function is one-way, which means with the same input it should always produce the same output, but it can't go the other direction. Given the hash you can't get the license plate. They use this for storing passwords. When you log in, the password you type gets pushed through the hash function, and then the result is compared with the stored hash from a table or database. If they match, you typed it correctly, but anyone who steals the password table cannot see your password. This is why sysadmins say "I can reset your password for you but I can't tell you what the old one was."
4 Replies