New Contributor II
Mark as New

Bookmark

Subscribe

Mute

Email to a Friend
Hi all, so I'm trying to create 3D features based on floorplans for an interactive map, and I've found that the way the features are extruded is inconsistent. I'm pretty sure it has something to do with the basemap of the local scene being rather hilly, so then all 3D objects are extruded from that, which causes the inconsistency. Here is a picture of what I'm talking about: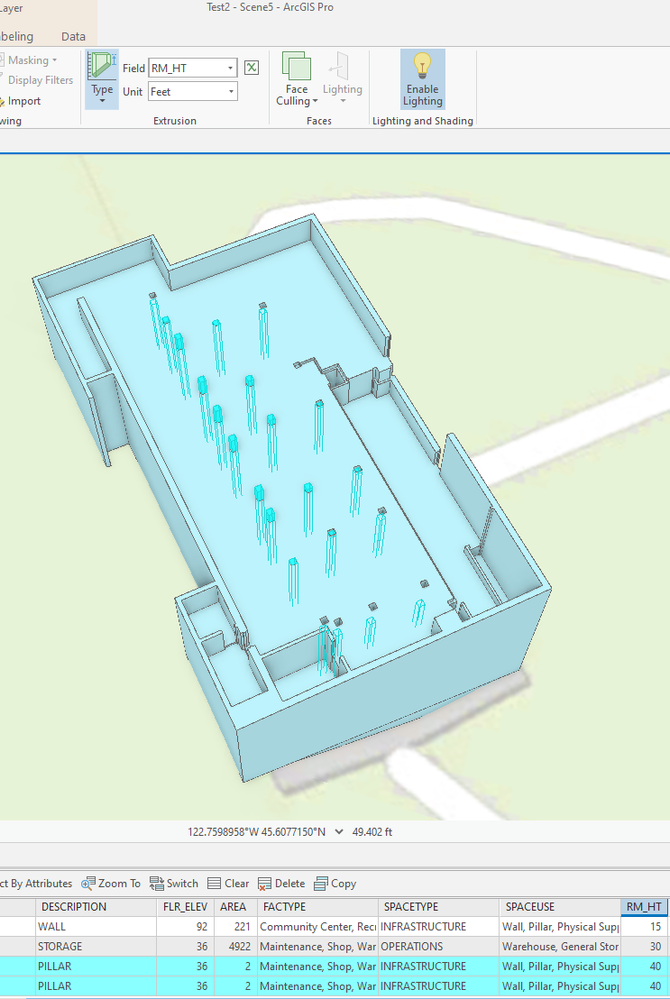 So the pillars here are all selected and being extruded based on the "RM_HT" attribute, using the Max Height Type. As you can see, they vary in length, some extruding above the floor (Which is set to RM_HT of 30), and some sinking below it. I had prior difficulties with this specific piece of land earlier as setting the RM_HT of the floor below 30 caused a lot of clipping with the basemap. Again, the hill. So, how might I go about getting these pillars to render at the same height? I feel like I basically need an invisible level floor from which the pillars can extend, not from the basemap. Thought as to how I might be able to accomplish this?
Feel free to play around with the map yourself: https://arcg.is/0Te90i
1 Reply

New Contributor II
Mark as New

Bookmark

Subscribe

Mute

Email to a Friend
Did you try changing the extrusion Type?
Alternatively, are your features set to 'On the ground' in layer properties under Elevation? If it defaulted to 'At an absolute height' this could cause your issue.