New Contributor III
Mark as New

Bookmark

Subscribe

Mute
I am using ArcGIS pro 2.8
1. There is a simple task I need to do, like joining a csv to a layer based on a common field, and then export it to save all the information in a new layer. It was really a simple task in ArcMap, but I don't know why after exporting the joined-up layer (selected layer from a shapefile) and the csv table, all data belonging to the csv table are turned into 0s in the exported output layer. That was my first issue.
2. Then I thought, ok maybe I can create a new field in the selected layer, and update it with the information from the csv table. I get the message below saying the column specified does not exist!! Well, I am updating SCI_Score column based on SCI column coming from the csv table; both columns have Double type. They are clearly both there in the joined up layer.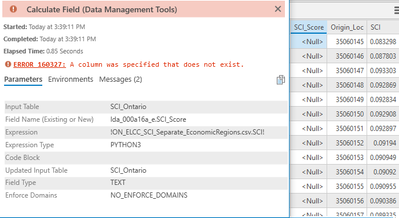 Anybody knows why this is happening?
1 Solution

New Contributor III
Mark as New

Bookmark

Subscribe

Mute
Thanks for the suggestion. Unfortunately neither of the proposed work arounds resolved my problem.
The reason I had to export the selected layer was because I could not share it on ArcGIS Online

So, I decided not to use the selected layer. Instead, I used the entire shapefile. This resolved one problem.

Then I exported the joined up shapefile and table into a new layer. It maintained all the numbers from the csv/excel table. And then I was able to share that layer online.
Question is then, why can't the same be done with a selected layer.
4 Replies