Mark as New

Bookmark

Subscribe

Mute
When Sharing a Webmap or Feature Layer in ArcGIS Pro to Portal for ArcGIS, a user may see the option to "Reference Registered Data". This option is only valid however, if two conditions are met:
The data source where the data is currently hosted must actually be registered with the Portal's Hosting Server or another Federated Server.
The user must have the 'Publish Server-based Layers' privilege because layers published in this manner are not Hosted Services, but traditional ArcObjects-based services.
In the event either of these conditions are not met, the Pro UI disables the Analyze and Share buttons, preventing the user from publishing the service.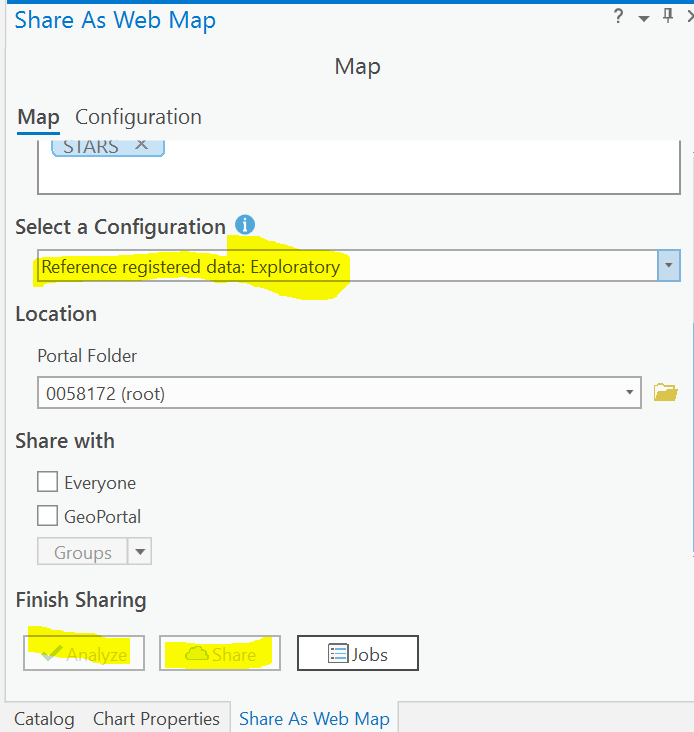 THIS BAD UI/UX DESIGN. A GOOD UI/UX DESIGN CONTINUALLY EVALUATES REQUIRED CONDITIONS AND UPDATES THE UI TO GUIDE THE USER TOWARDS THE PROPER SELECTIONS. IT DOESN'T DISABLE BUTTONS FOR NO OBVIOUS REASON WITHOUT EXPLANATION.
Obviously, there is some mechanism detecting that the required conditions to publish the layer are not being met by the user. So why show the 'Reference registered data' option at all? It only serves to confuse and frustrate the user, especially considering that no error message or explanation is given as to why the Analyze and Share buttons are disabled.
ESRI: The user can just click the Info button icon next to the Select a Configuration option to read what each option means.
Fine, but you could also just design the UI/UX to avoid the situation entirely. The mechanism to evaluate the conditions clearly already exists, its just be implemented in the UI in an unintuitive fashion.
You must be a registered user to add a comment. If you've already registered, sign in. Otherwise, register and sign in.