Mark as New

Bookmark

Subscribe

Mute
Metadata is very important and ArcGIS Pro provides an interface to allow a user to add/edit important information. One such metadata attribute is the field attribute information. Here you describe the field, how it was created, possible limitations etc.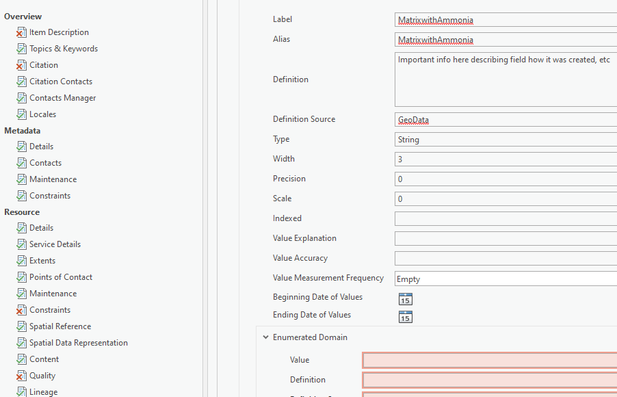 Many fields are categorical and one needs to describe what each code means. Again you would add this under the enumerated domain and here lies my problem and idea.
You add a new enumerated domain value by clicking on the plus symbol, this is painful slow. One lives with this limitation if you only have a few codes to enter but if you have many codes to add and describe it becomes a real barrier.
Also you might have multiple fields in your table using the same categories and there is no way to duplicate these or copy 'n' paste.
The interface needs to be improved to remove this barrier to users and allow rapid entry of metadata and that's got to be a good thing for the industry!
Ideas are:
Add a button that allows you to insert X number of blank enumerated domains
Once a field has a set of enumerated domains added and described, allow them to be selected and applied to another field in the same table.
These two ideas would massively reduce the amount of time entering metadata. Right now its clunky and a barrier to users so poor metadata is constructed.
4 Comments
You must be a registered user to add a comment. If you've already registered, sign in. Otherwise, register and sign in.