ArcGIS Pro Roadmap - February 2023
Our goal is to build the best GIS software available. This ArcGIS Pro Roadmap* gives you a sneak peek of what we're focusing on for the near, mid and long-term of ArcGIS Pro development. This gives our current estimate of when each capability will be released. Some new capabilities will be made available for testing through Early Adopters Programs prior to a release. We'll revise the roadmap throughout the year to ensure it reflects the latest information.
What would you like to see next in ArcGIS Pro? Share your ideas in the ArcGIS Pro Idea Exchange.
* Capabilities on this roadmap are tentative and subject to change, delay, or cancellation. The continued development or release of a capability is at the sole discretion of Esri.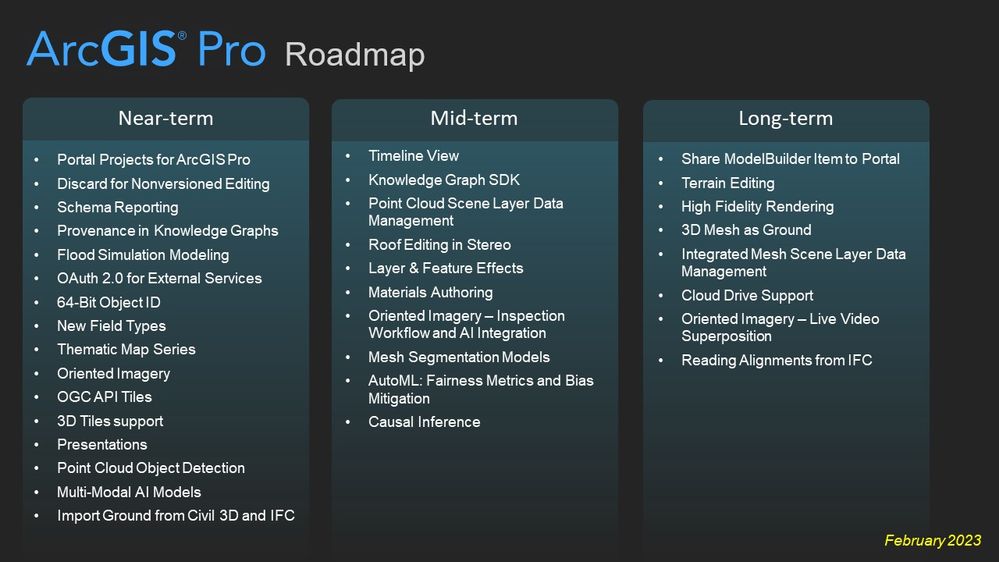 ArcGIS Pro Roadmap for February 2023
To explore the details of the above features, please take a look below at the "ArcGIS Pro Roadmap - Core Functionality" section.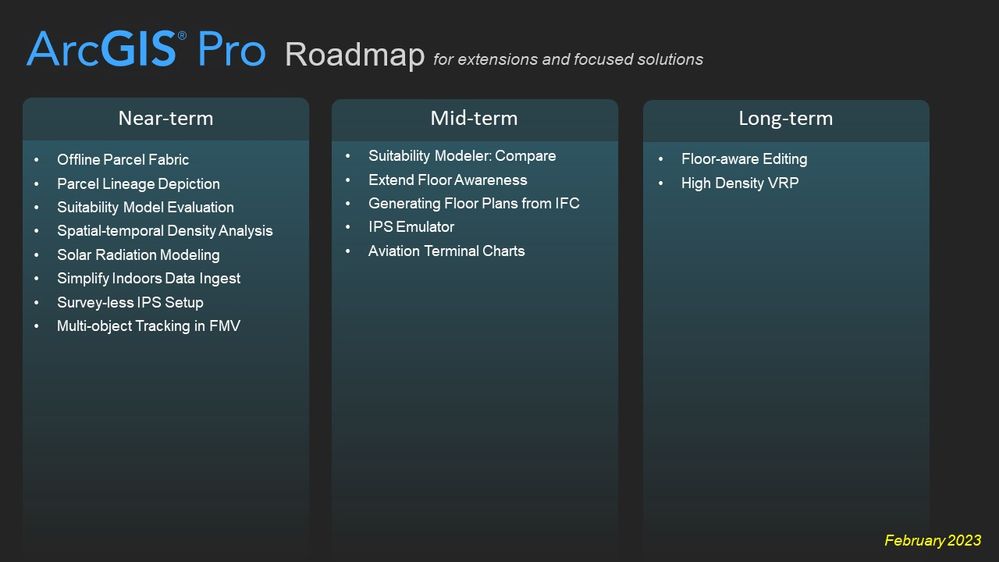 ArcGIS Pro Roadmap for extensions and focused solutions, February 2023
To explore the details of the above features for extensions and focused solutions, please take a look below at the "ArcGIS Pro Roadmap - Extensions and Focused Solutions" section.
ArcGIS Pro Roadmap - Core Functionality
Near-Term (next release or two)
Portal Projects for ArcGIS Pro -
Use your Portal to share projects, collaborate and work more effectively with others in your organization.

Discard for Nonversioned editing - Support of workflows similar to those implemented in ArcMap for editing non-versioned data. When implemented edits against non-versioned data will not be written directly to the database, giving the user the ability to discard edits before committing.

Schema Reporting - Tools to generate data model reports and data dictionaries, similar to the ArcMap X-Ray add-in.

Provenance in Knowledge Graphs - Support provenance for property values of Entities in Knowledge Graphs.

Flood Simulation Modeling - Model flooding scenarios for an area of interest in 3D to better understand and plan for potential futures.

OAuth 2.0 for external services - Support connecting to external services using OAuth 2.0 like cloud stores and OGC services.

64-Bit ObjectID – Enhancing ArcGIS system ability to work with very large datasets.

New Field Types – BigInteger, Timestamp with Time zone: Add support for new data types required for critical user workflows related to time, observation data, and so on.

Thematic Map Series - Create a layout map series where the data updates for each page while the map frame extent stays the same.

Oriented Imagery - An image visualization and management solution for non-nadir optical imagery, such as oblique, street-view, or inspection images. It enables access to imagery at any angle from any location and relates the feature in map to image space.

OGC API Tiles - Extending OGC API Support in Pro to consume Tiles. OGC API Tiles is the recent addition to OGC API family of Web API standards to visualize vector and image tiles.

3D Tiles Support – Consume integrated meshes from 3D tiles in ArcGIS Pro.

Presentations - Create and share a collection of map and scene views along with titles, graphics, and descriptive text as presentations.
Point Cloud Object Detection - Ability to train and use 3D object detection models in point clouds.
Multi-Modal AI Models - Ability to use image attachments and text in addition to tabular data for machine learning models.

Import Ground from Civil 3D and IFC – Improvements to the ground are part of many infrastructure projects, both in-design and as-built. This project answers the question: What's the best way to support reading digital terrain or surface information from Autodesk Civil 3d and IFC so that the information can be used across the ArcGIS system, and also support creating future CAD content without losing the rich DTM information collected in CAD.
Mid-term (next two or three releases)
Timeline View - Visualize your data along a temporal axis. Timelines complement the spatial view of your data on the map by showing where in time your data falls. By plotting your data along a timeline, you can understand the temporal order of your data and discern temporal trends that emerge.
Knowledge Graph SDK- .NET SDK to customize and enhance Knowledge Graphs.
Point Cloud Scene Layer Data Management - Add, Delete, and Change very large point cloud services based on referenced data sources.
Roof Editing in Stereo - Tools specifically designed to create and edit pitches, ridge lines, gables and other roof specific features.
Layer & Feature Effects - Apply visual effects such as blur and drop shadow to layers or a subset of features for emphasis.
Materials Authoring - Author properties on surfaces to support reflectivity, roughness, and other properties for more photo-realistic visualizations in 3D scenes.
Oriented Imagery: Inspection Workflow and AI Integration - Inspection workflows added to Pro to enable collection of features in image space as part of inspection workflows. Tight integration with ArcGIS Image Analyst Extension AI workflows for creating training data, training models and inferencing. Integration with pre-trained models such as face blurring, car number plate blurring as well as a range of feature extraction such as road signs. User will be able to drive to a collection of image, features or labels to collect or review attributes.
Mesh Segmentation Models - Mesh Segmentation will provide the ability to train and use deep learning models for identifying parts of a 3D mesh as objects such as trees, buildings or roofs.
AutoML: Fairness metrics and Bias mitigation - Enhancement to AutoML tools to measure & report bias against sensitive groups, and the ability to mitigate bias in machine learning models trained on biased data.
Causal Inference - a statistical approach to finding cause-and-effect relationships between variables. It takes variable association to the next level and determines whether any changes in a treatment variable directly lead to changes in outcome variables. These causal relationships enable better decision making by identifying the most effective interventions and predicting outcomes.

Long-term (in the plan but not assigned to a release at this point)
Share ModelBuilder Item to Portal - Author a ModelBuilder model in Pro and share it as an item to your portal. You will be able to run and view the model from a browser and download and use the item in Pro projects.
Terrain Editing - Ability to interactively edit the ground or other surfaces. Add, remove and replace data referenced by the surface.
High Fidelity Rendering - A series of display improvements to support more photo-realistic 3D scene visualizations.
3D Mesh as Ground - The ability to use integrated mesh or TIN information as a true triangulated ground surface that would be more precise than our raster surfaces and allow structures such as tunnels and mines.
Integrated Mesh Scene Layer Data Management - Add, Delete, and Change very large integrated mesh services based on SLPK.
Cloud Drive Support - Support storage of ArcGIS Pro files and data in common cloud drives like OneDrive and Google Drive.
Oriented Imagery: Live Video Superposition - Superposition of live video streams onto surfaces of objects (flashlight mode) enabling live representation of scenes from multiple image sources.
Reading Alignments from IFC - Building Smart International is actively working on expanding the IFC standard to include more and more infrastructure support, including things like rail, tunnels, and roadways. To address the anticipated needs, this project builds on our current capabilities to read 3D elements from IFC to include alignments and other linear elements as part of our BIM model support.
ArcGIS Pro Roadmap - Extensions and Focused Solutions
Near-Term (next release or two)
Offline Parcel Fabric – Ability to take parcel fabric features in the current map extent offline while maintaining the spatial integrity of the parcels.
Parcel Lineage Depiction – Depict the parent-child relationship between parcels to support 'chain of title' research
Suitability Model Evaluation - The Suitability Modeler Evaluate functionality and user experience allow the user to explore and analyze the interaction of the transformations and weights of the criteria, as well as the resulting locations. This will allow the user to evaluate the quality of their model.
Spatial-temporal Density Analysis - The Spatial-Temporal Kernel Density analysis will expand its calculations from analyzing the relative position and magnitude of the input features to include other dimensions (kernels) such as time and depth. The resulting output identifies the magnitude-per-unit area using the multiple kernel functions to fit a smoothly tapered surface to each input point or polyline.
Solar Radiation Modeling - Enhance solar radiation modeling by creating new tools with a new algorithm supporting geodesic computation, improve performance by supporting parallel and GPU computation, and workflow improvements by supporting precomputed slope input. It will also support other celestial bodies e.g. Moon, and Mars.
Simplify Indoors Data Ingest - Simplify the process of loading CAD and BIM floor plans to the Indoors model to create floor-aware maps and scenes.
Survey-less IPS Setup - A new tool will be made available in Pro that can generate the data necessary to enable IPS positioning without the need of performing on-site surveys.
Multi-object Tracking in FMV - Ability to efficiently detect and track multiple objects in full motion video using OC-SORT and ByteTrack models.
Mid-term (next two or three releases)
Suitability Modeler: Compare - The Suitability Modeler Compare functionality and user experience allows the user to compare a set of similar models. The user can explore an individual model, compare two models, or analyze a series of models relative to each other to determine the best model.
Extend floor awareness - Extend the concept of floor awareness from visualization in a map or scene to filtering tabular data.
Generating Floor Plans from IFC - Organizations are standardizing on IFC as a BIM data delivery standard for architectural models. Our customers want to generate 2.5d floorplans from these 3d models, as we can for Autodesk Revit architectural models. While IFC doesn't have all the needed information, this project is to explore how we can create a tool that would generate an approximation of the floorplan from the limited information.
IPS emulator - Integrate an option to emulate the IPS engine available in Maps SDK directly within Pro. This will serve for quality assessment and parameter tuning to achieve better blue dot performance.
Aviation terminal charts - Aviation terminal charts.
Long-term (in the plan but not assigned to a release at this point)
Floor-aware Editing - Create a user experience for editing floor-aware maps and scenes in ArcGIS Pro.
High Density VRP - A new Vehicle Routing Problem solver is being developed to support the residential garbage pickup workflow. This new solver will allow for a high density of order locations so every house on the street could be visited and the street edges routed in an efficient manner. This solver will also support business constraints such as capacity of the vehicles, following driver time regulations, and emptying the vehicle mid-route and before the return to the depot at the end of the day.