New Contributor II
Mark as New

Bookmark

Subscribe

Mute
We have an SDE version 10.8.1 on Oracle 19c server. Currently, we edit our parcel fabric using ArcMap 10.8.1.
If we want to edit our Parcel Fabric using ArcGIS Pro 2.9, we would have to migrate the ArcMap Parcel Fabric to a "Pro" Parcel Fabric and we would also need to set up an ArcGIS server and a Portal for ArcGIS, am I correct?
Can we edit a Parcel Fabric stored in 10.8.1 SDE using ArcGIS Pro 2.9 ? or we would have to upgrade the SDE to a Pro version e.g. 10.8.1.2.9 ? will the ArcMap clients still be able to access and edit their data in the SDE that has been upgraded to the Pro version?
In summary, can we edit a parcel fabric using one of the following options:
1) ArcGIS Pro 2.9, ArcGIS Server 10.8.1, Portal for ArcGIS 10.8.1, SDE 10.8.1 on Oracle 19c ?
2) ArcGIS Pro 2.9, ArcGIS Server 10.9 Portal for ArcGIS 10.9, SDE 10.8.1 on Oracle 19c ?
Another question:
Can we use traditional versioning to edit parcel fabric directly in SDE using ArcGIS Pro ?
1 Solution

by
KenGalliher1

Esri Contributor
Mark as New

Bookmark

Subscribe

Mute
Hi Valerie,
Does Enterprise geodatabase follow the same version as ArcGIS enterprise?
Creating a new geodatabase or upgrading an existing, older geodatabase will set the geodatabase version to match the Enterprise version.
ArcGIS Pro does not force the GDB to be at the same release as the Enterprise but publishing the parcel fabric does. The geodatabase can be upgraded using ArcGIS Pro from the geodatabase properties page similar to ArcGIS Desktop.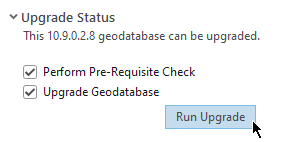 Regarding when to upgrade, as Amir mentioned, if you want to use ArcGIS Pro 2.9, you will need ArcGIS Enterprise 10.9.1. If you cannot upgrade from your current 10.8.1, the parcel fabric will require you stay at Pro 2.6 as shown in the matrix.
Here is a suggested upgrade path:
1. Upgrade ArcGIS Enterprise to version 10.9.1
2. Install ArcGIS Pro 2.9
3. Upgrade the geodatabase that will contain the Pro parcel fabric to 10.9.1 or create a new geodatabase with Pro 2.9.
4. Migrate the ArcMap fabric into the 10.9.1 geodatabase. This will create a "version 5" parcel fabric.



5 Replies