New Contributor II
Mark as New

Bookmark

Subscribe

Mute

Email to a Friend
Hi Everyone, I did a quick search and haven't been able to find a solution to my issue.
I have a story map journal created in my organization's ArcGIS Online account.
The map services and underlying web map as well as the application itself are all shared publicly.
So, literally everything is public. And yet, if I share the Story Map URL and check it, I get prompted to login to Portal.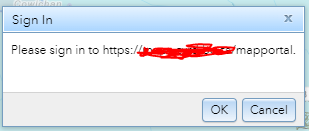 Now, I will readily admit there are a number of workarounds that I've already had to do to get to this point. For starters, I don't even want to be using ArcGIS Online, but my basemap is a custom vector basemap created in the beta vector style editor - and I was having issues in my version of Portal.
Additionally, each page in my journal is coming from a web application linked as a web page (done because i needed widgets!) As far as I can tell, none of this should be affecting the access/security permissions to the Story Map applications.
I'm at a bit of a loss.
Thanks,
Chris
3 Replies

by
AdrianWelsh

MVP Notable Contributor
Mark as New

Bookmark

Subscribe

Mute

Email to a Friend

New Contributor III
Mark as New

Bookmark

Subscribe

Mute

Email to a Friend
Hi Adrian,
I figured out the immediate issue - but now that it's working and the content is viewable and still in beta i don't really want the link out there so I removed my response post.
Anyways the issue seemed to be that the web application that I was referencing in the map journal was authored in Portal and ported to ArcGIS Online using the Online Assistant. I re-created an application in Online and that seemed to solve the issue.
Thanks
Chris

by
AdrianWelsh

MVP Notable Contributor
Mark as New

Bookmark

Subscribe

Mute

Email to a Friend