New Contributor
Mark as New

Bookmark

Subscribe

Mute
Hello,
I'm working on a project where I need to be able to split polygons within an ArcGIS Online web application. I've followed the following tutorial:
https://support.esri.com/en/technical-article/000023424
This has been helpful in getting me 90% of the way there, but when I go use the cut command it'll do two things:
1. It will split the polygon with the line, but it seems to delete the other part of the polygon
2. When I move or zoom in/out it will revert the polygon back to its original shape
Both are not ideal. Here are some screenshots to show my process in numerical order.
Why would it do either of these things? For one the cut tool should make two separate polygons, right? And two, why is it reverting back? I have the layer set as editable and I've enabled cutting. There doesn't appear to be a reason for this.
Any help is appreciated.
1 Reply

Esri Contributor
Mark as New

Bookmark

Subscribe

Mute
Hi GeoffPDX,
Thank you for your question. Can you please provide further information regarding the web browser that you are using when launching your Web App?

Have you tried opening the application in other web browsers and do you see the same results?
I have run a test using the latest version of Microsoft Edge and attached an example of the result below.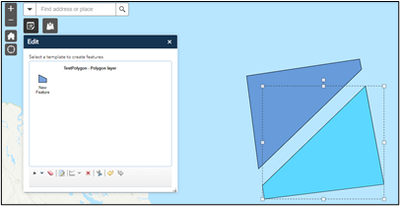 Regards,
Matthew