Occasional Contributor
Mark as New

Bookmark

Subscribe

Mute
I created a hosted feature layer with all its features (294162 features) and the size is 199.156MB. I then added a definition query in ArcGIS Pro to show only the first 20 features. When I published the subset of data as a hosted feature layer, the size is 199.18MB. The subset layer shows 20 features in the attribute table.
Why would the size of the subset layer with 20 features be the same (or actually slightly larger) than the original layer with 294162 features?
Original layer details: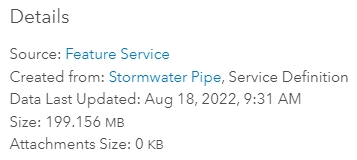 Subset layer details: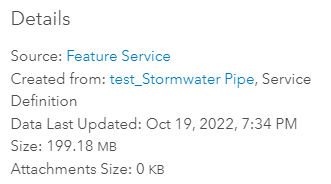 1 Solution

Occasional Contributor
Mark as New

Bookmark

Subscribe

Mute
Seems like this is by design, which I think is not ideal. I would have thought that if you have a definition query on the layer, you only want those to be published and not everything.
This also has other issues associated with it:
Performance of effecting the definition query in the service
AGOL credit usage
Security - might have records published in AGOL which could potentially be exposed if someone was able to remove the definition query (unlikely, but possible)
Here is an excerpt from this site:
Note:

If the layers in the ArcMap or ArcGIS Pro map have definition queries applied to them, ArcGIS applies the definition queries to the published hosted feature layer. However, all data is uploaded to ArcGIS Online. If you want only a subset of the data to be published to and stored in ArcGIS Online, you must export the subset of the data to another feature class and publish that.

If you intend to overwrite the hosted feature layer to update it, be sure to choose the option to Preserve layer IDs when you publish the feature layer from ArcGIS Pro. This option is not available in ArcMap.
4 Replies