New Contributor III
Mark as New

Bookmark

Subscribe

Mute
Good Morning All,
I have recently uploaded a web map and was attempting to make some individual attribute changes to come fields. Am a only able to run field calculations for online data editing or can I edit attribute table data similar to desktop to where I can double click on a field and edit data on an individual basis?
My user type is creator and I though I could edit individual cells in an attribute table without running a field calculation for the entire field.
Any tips on this matter would be greatly appreciated!!
3 Replies

by
jcarlson

MVP Esteemed Contributor
Mark as New

Bookmark

Subscribe

Mute
You should be able to edit individual table cells, but it depends on where you're doing it. The attribute table widget in Web App Builder is read-only. In the Map Viewer and Map Viewer Classic, the table is editable, but only if the layer's settings permit edits. Experience Builder also introduced editable table widgets recently. And the Data tab of the item page should be editable as well.
In short, unless you're in WAB, the table ought to behave as you expect.
If it isn't, I would check:
Do the layer settings permit edits?
Is editing disabled in the particular map you're using?
You may be a creator type, but do you have a user role that permits edits?
- Josh Carlson
Kendall County GIS

New Contributor III
Mark as New

Bookmark

Subscribe

Mute
Hey Josh,
I was attempting to make edits in Map Viewer Classic. Would I be able to toggle the layers settings in the map for that or do i need to go to the individual web layer?
My Role is administrator so I think I should be able to make the edits
I am also exploring the other tips you provided me! I think may be one of the first two options you noted! Thanks!

by
jcarlson

MVP Esteemed Contributor
Mark as New

Bookmark

Subscribe

Mute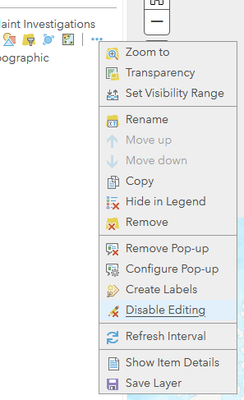 If the layer is already set to "editable", you can tell a specific map whether or not to allow editing in the map: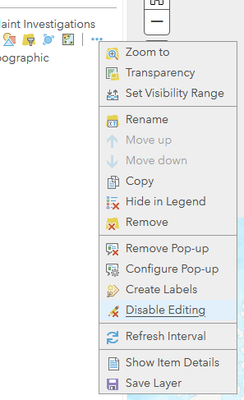 If the layer does not have editing enabled, you have to go to the Item page and toggle it in settings.
You can also open a layer that does not have editing enabled in "admin" mode. Or just stick &isAdmin=true at the end of the web map URL. But if you're not an admin, that probably won't work.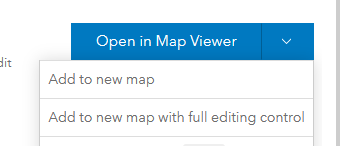 - Josh Carlson
Kendall County GIS