Mark as New

Bookmark

Subscribe

Mute
Does AGOL support mapServer endoints for hosted feature classes? I published several feature classes to AGOL from Pro. They all need to be in the same directory for a particular 3rd party software which has a lot of limitations. Apparently, this software also can not support featureServer feature layers. It needs a map image layer. And all map image sublayers must be inside of one service directory.
Publishing from Enterprise of course, that endpoint would exist, as always, it would simply be a matter of clicking Publish. On AGOL, I published as a FeatureLayer (it needs editing). I only see it ending in FeatureLayer on the published REST directory on AGOL. I figured, perhaps I can click on the dataset in Pro and enable MapServer or something. Can't edit item properties in Pro, at least not readily from the GUI from a quick scan. I know we can create hosted tile layers, but the issue is those are static and only some of the several layers are turned on, by default. I want it to work like an interactive layer list for mapServer map image layers where each sublayer can be toggled on or off. Does AGOL support hosting 'regular' mapServer map image layers? It does not seem to from what I can tell.. Thanks for advice everyone!
2 Replies
Mark as New

Bookmark

Subscribe

Mute
The documentation appears to discuss this but in my Pro after adding the AGOL hosted feature layer, I do not see the "Publish Layer From Feature Layer" command as indicated in this document. https://pro.arcgis.com/en/pro-app/latest/help/sharing/overview/publish-a-map-image-layer-from-a-host... I did test creating a hosted tile layer from it, which worked but as expected the sublayers can't be turned off and for that and other reasons a tile layer would not work; it needs the classic map image layer dynamic map service. If there is anything else I can try I would appreciate any advice and thanks again!
If this capability exists only in Enterprise perhaps a sentence in the documentation such as this could be useful - "If a client requires map image layer endpoints, publishing to ArcGIS Enterprise is required."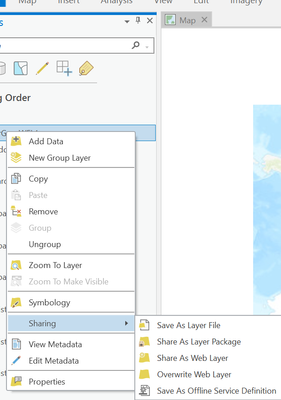 Mark as New

Bookmark

Subscribe

Mute
Only need a yes/no. Support thought it was no. I am hoping for Product Engineers to confirm.