Not applicable
Mark as New

Bookmark

Subscribe

Mute
I have a related layer and table, related to each other using a unique identifier. The one to many relationship class was made in arcgis pro and published online.
The first layer is a list of features, with geographic data, and the table is a list of inspections that takes place on different features in the first layer from time to time. My problem is that I want some of the fields in the child table (such as the name, highlighted yellow in the image) to automatically update based on the parent layer. So when a field worker selects H001 on the map, then the hydrant name should get automatically updated based on whats in the parent table?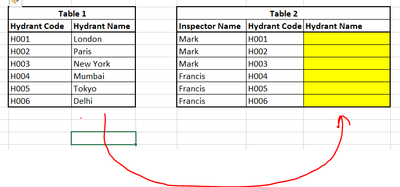 Is it possible to do this, either using an inbuilt function or using a script? I would really appreciate any help on this, since this will simplify our workflows considerably.
1 Solution

by
DougBrowning

MVP Honored Contributor
Mark as New

Bookmark

Subscribe

Mute
If you want it to autopopulate offline in the field then no I know of no way to do that. Attribute Rules may do it but they will not be around for 6 months or more.
If you are on a field device then a Field Maps/123 combo can simulate it. What I do it pass whatever data I need from the parent in Field Maps to the child which is a 123 form. Or you can just use 123 and use pulldata to fill it out. You could also use a callback URL to pass from 123 back to Field Maps.
Old school option is to run a script each night to copy the field.
I also wonder why not use domains and have the H0001 link to the friendly name.
I would still look at ways to grab it without dual data. Having data in two places always becomes a pain. Like what if the name of H0001 gets changed? Do you go back and recalc all of those? Related tables lets you change the name in one place and they all get the update.
Not sure I understand your workflow enough.
Hope that helps
6 Replies