Occasional Contributor II
Mark as New

Bookmark

Subscribe

Mute
Hi in a hosted table created from a uploaded csv, I have a field which contains minutes data, such as
Which was for some reason, uploaded as fieldtype string, even though I specified the fieldtype as integer when I first uploaded the csv (same also occurred when trying to specify dates as fieldtype date).
I want to make a new field in ArcGIS online, which would contain hours data calculated from totalminutes. I've tried creating a new field with fieldtype integer and using SQL totalminutes/60. However, this only returns whole numbers like 0, 1 and 2s, which seem to be rounded numbers, rather than 0.5, 0.75 etc.
However when I create a new string field and use the above formula, it returns correct results (0.5, 0.75 etc). I need the hours field to be a integer field though, since I need to use SUM on this field in Dashboard. Any ideas on how I can achieve this in ArcGIS onlline?
Thanks!
1 Solution

by
ManishPatel

Esri Contributor
Mark as New

Bookmark

Subscribe

Mute
Hi @JulietK ,
If the totalminutes is string you will need to cast it to correct data type and then use the below to calculate
CAST(totalminutes AS FLOAT)/60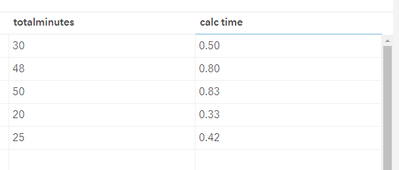 Cheers,
Manish
______________________________________________________________________________________________
If the answer solved your question or if you found it helpful please mark it accordingly to help others who have the same question.
Cheers,
Manish
4 Replies