Occasional Contributor
Mark as New

Bookmark

Subscribe

Mute

Email to a Friend
This is related to water consumption and waterloss to add context. I have the following two layers in my map:
-Zones
-Meters
I've been trying to make this work in Arcade, but can't exactly figure out how. I have figured out how to Count the meters contained in the "zone" as shown below in the map with the pop-up, but I also want to display the total of the field "Consumption" of all the meters contained in that polygon/zone. So if I had a Zone and there were 5 meters in the zone, and each customer consumed 1,000 gallons, I want to display 5,000 gallons on the pop-up for that Zone.
var meter = FeatureSetByName($map,"METERS")
var CountMeters = Count(Intersects(meter, $feature))
Return CountMeters
I'm focused on using the "(Intersects(meter, $feature))" with the function of SUM, but I'm not sure that's the right direction. In words, I want to find all the features from the Meter layer that are contained in the polygon Zone, and then total the attribute field "consumption" of those objects. I'm looking for the total water consumption within that Zone. I can only find examples of counting objects using the Intersect function, but not totaling fields using the Intersect function.
Any help would be greatly appreciated.
Attibute table for a Meter: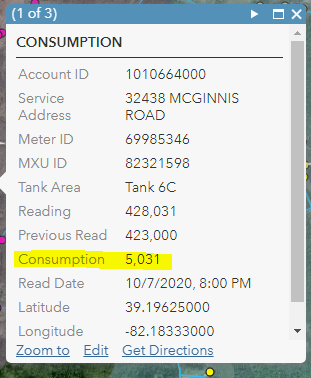 DMA Zone and Meters: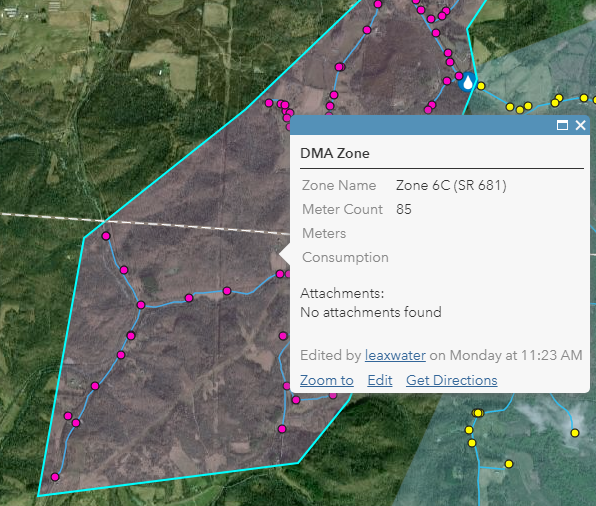 1 Solution

by
XanderBakker

Esri Esteemed Contributor
Mark as New

Bookmark

Subscribe

Mute

Email to a Friend
Hi Travis Anderson ,
You should be able to use the Sum function to do just that:
// access the meters featureset, limiting the fields to Consumption




var

 meters 

=

 

FeatureSetByName

(

$map

,

 

"METERS"

,

 

[

"Consumption"

]

,

 False

)

;





// count the meters




var

 CountMeters 

=

 

Count

(

Intersects

(

meters

,

 $feature

)

)

;





// Calculate consumption




var

 consumption 

=

 

0

;





// check to see if there are meters in the zone




if

 

(

CountMeters 

>

 

0

)

 

{


    

// calculate the sum of the consumption


    consumption 

=

 

Sum

(

meters 

,

 

"Consumption"

)

;




}





// return the result


Return consumption

;

‍

‍

‍

‍

‍

‍

‍

‍

‍

‍

‍

‍

‍

‍

‍

‍

‍
You can also include the number of meters found in the resulting text if that is something you want:
// access the meters featureset, limiting the fields to Consumption




var

 meters 

=

 

FeatureSetByName

(

$map

,

 

"METERS"

,

 

[

"Consumption"

]

,

 False

)

;





// count the meters




var

 CountMeters 

=

 

Count

(

Intersects

(

meters

,

 $feature

)

)

;





// Calculate consumption




var

 consumption 

=

 

0

;




var

 result 

=

 

""

;





// check to see if there are meters in the zone




if

 

(

CountMeters 

>

 

0

)

 

{


    

// calculate the sum of the consumption


    consumption 

=

 

Sum

(

meters 

,

 

"Consumption"

)

;


    result 

=

 consumption 

+

 

" gallon ("

 

+

 CountMeters 

+

 

" meters in zone)"

;




}

 

else

 

{


    result 

=

 

"0 gallons (no meters in zone)"

;




}





// return the result




return

 result

;




‍

‍

‍

‍

‍

‍

‍

‍

‍

‍

‍

‍

‍

‍

‍

‍

‍

‍

‍

‍

‍
12 Replies