New Contributor III
Mark as New

Bookmark

Subscribe

Mute
I'm trying to define a colour to points based on their timeperiod.
Basically what im trying to achieve is this:
| MonthBefore | < 'colour1' < | beginDate | <= 'colour 2' <= | endDate | < 'colour3' < | WeekAfter|
everything else: 'colour 4'
Everything seems to be working as intended up until the colour 3..
When I check the Symbol options I notice only 8 features are present, while 10 are included in the feature layer.
No filters are applied.
When Symbology based on location is applied, all features are shown.
Any reason as to why and what is happening?
ps. I triple checked if all possibilities are available.
Script
var nu = now();
var begin = $feature["Begin_Datum"];
var eind = $feature["Eind_Datum"];
var MaandErvoor = DateAdd(begin, -1, 'month');
var WeekErna = DateAdd(eind, 7, 'days');

var Kleur = When(
nu > MaandErvoor && nu < begin, 'Oranje',
nu >= begin && nu <= eind, 'Rood',
nu > eind && nu < WeekErna, 'Groen',
"Grijs"
);

return Kleur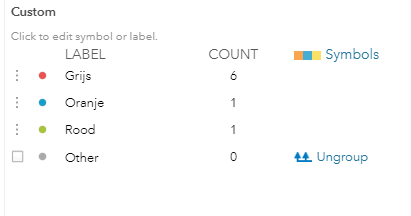 1 Solution
Mark as New

Bookmark

Subscribe

Mute
I tested your code using some various dates and it does return all values
var

 nu 

=

 

now

(

)

;




var

 begin 

=

 

Date

(

2020

,

6

,

1

)

;




var

 eind 

=

 

Date

(

2020

,

6

,

25

)

;

 

//returns 'Groen', 2020/6/20 returns 'Grijs', 2020/6/31 returns 'Rood'. Changing the month in begin and eind to '7' returns 'Oranje'




var

 MaandErvoor 

=

 

DateAdd

(

begin

,

 

-

1

,

 

'month'

)

;




var

 WeekErna 

=

 

DateAdd

(

eind

,

 

7

,

 

'days'

)

;





var

 Kleur 

=

 

When

(


  nu 

>

 MaandErvoor 

&&

 nu 

<

 begin

,

 

'Oranje'

,


  nu 

<=

 eind

,

 

'Rood'

,


  nu 

<

 WeekErna

,

 

'Groen'

,


  

"Grijs"




)

;





return

 Kleur‍‍‍‍‍‍‍‍‍‍‍‍‍‍

‍

‍

‍

‍

‍

‍

‍

‍

‍

‍

‍

‍

‍

‍
3 Replies
Mark as New

Bookmark

Subscribe

Mute
I tested your code using some various dates and it does return all values
var

 nu 

=

 

now

(

)

;




var

 begin 

=

 

Date

(

2020

,

6

,

1

)

;




var

 eind 

=

 

Date

(

2020

,

6

,

25

)

;

 

//returns 'Groen', 2020/6/20 returns 'Grijs', 2020/6/31 returns 'Rood'. Changing the month in begin and eind to '7' returns 'Oranje'




var

 MaandErvoor 

=

 

DateAdd

(

begin

,

 

-

1

,

 

'month'

)

;




var

 WeekErna 

=

 

DateAdd

(

eind

,

 

7

,

 

'days'

)

;





var

 Kleur 

=

 

When

(


  nu 

>

 MaandErvoor 

&&

 nu 

<

 begin

,

 

'Oranje'

,


  nu 

<=

 eind

,

 

'Rood'

,


  nu 

<

 WeekErna

,

 

'Groen'

,


  

"Grijs"




)

;





return

 Kleur‍‍‍‍‍‍‍‍‍‍‍‍‍‍

‍

‍

‍

‍

‍

‍

‍

‍

‍

‍

‍

‍

‍

‍

New Contributor
Mark as New

Bookmark

Subscribe

Mute

New Contributor
Mark as New

Bookmark

Subscribe

Mute