Mark as New

Bookmark

Subscribe

Mute
As an ArcGIS Online admin/developer, I want the ability to configure a service proxy (hosted in ArcGIS Online) that allows access to content owned by me.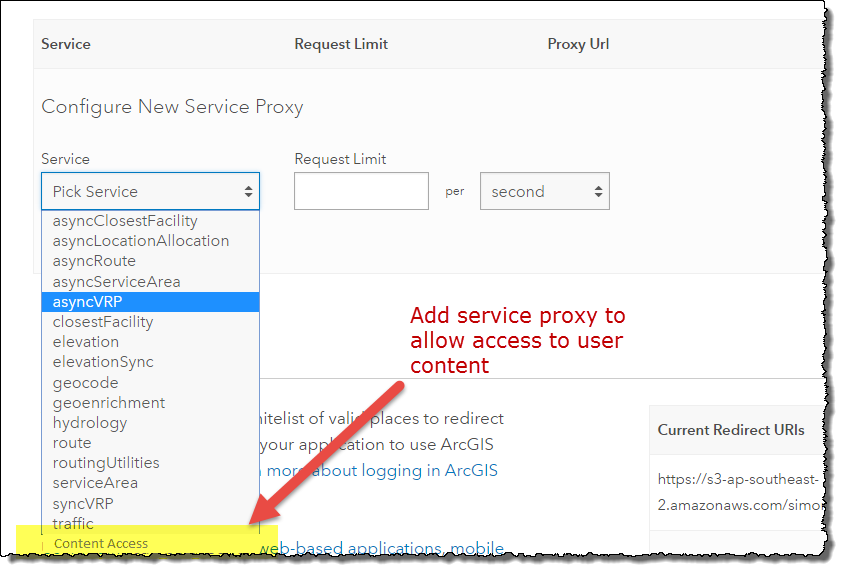 Currently ArcGIS Online
has hosted proxies
that I can configure to allow for application authentication to be setup to apps that access premium services.
If I want to allow an app that I have registered with ArcGIS Online to access content that is owned by me but secured, I have to setup and host my own proxy. This requires me to have access to a web server (with ability to run .NET, Java, PHP code for the proxy)
One Scenario: I have a geoform app that I want to be made public. They are entering sensitive details so I need to secure the underlying feature service that they are contributing to. I can make use of a
pplication authentication
to allow the app to access the secured service without prompting the user to login to ArcGIS Online to access the service. Downloading Geoform is not a problem and can easily/cheaply host on AWS S3. S3 is for static files, therefore cannot setup a proxy there. If hosted proxies allowed for one more additional option to access content owned by same user that registered app, this negates the need for me having to also host my own proxy.
Multiple scenarios exist with the other templates from ArcGIS Online. This requirement has come up with a number of users.
6 Comments
You must be a registered user to add a comment. If you've already registered, sign in. Otherwise, register and sign in.