Mark as New

Bookmark

Subscribe

Mute
Problem: When you want to find a symbol in the ArcGIS Web Map Viewer, you need to know which symbol set to choose and then scroll to the symbol you need. This is highly inefficient and almost unusable when trying to create standard practice.
Here are the steps I need to share to help someone...
1) Change Style
2) Choose an attribute to show
3) Types (Unique Symbols)
4) OPTIONS
5) Click on the type you want to change the symbol for
6) Choose "Public Safety" from the drop-down
7) Scroll down.... uh... about 4 mouse wheels,
😎 See the red shelter icon, choose that one for closed.
9) Repeat steps 5 - 8 several times
If you really want to see how painful this is... search for the campground or trailhead symbol in the National Park Service "pack".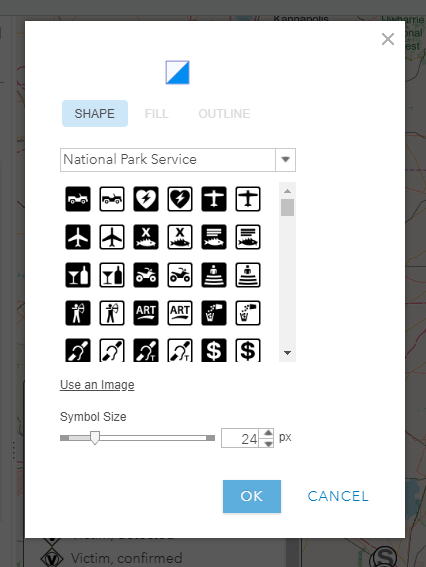 Solution: In the web map viewer (or I guess whatever the rebuild will be) please just make symbols "Searchable" by tags at Step 6.
Related Idea
Also - this Idea is also really important. Custom symbol galleries for ArcGIS Online
We want to be able to load standard public safety symbols into our ArcGIS Online account!!!
4 Comments
You must be a registered user to add a comment. If you've already registered, sign in. Otherwise, register and sign in.