Publish a Tiled Service to ArcGIS Online w/o ArcGIS for Server or Utilizing Your Credits
I've had many users with the need to publish a tiled service to ArcGIS Online. Two issues they face is that they do not have ArcGIS for Server, and they do not want to burn through all of their credits having ArcGIS Online create the tiles. This document will show you how you can accomplish this without running into these issues.
1. Add the data to ArcMap that you would like to create a tiled service for. In the below example, I am using a mosaic dataset of SID imagery: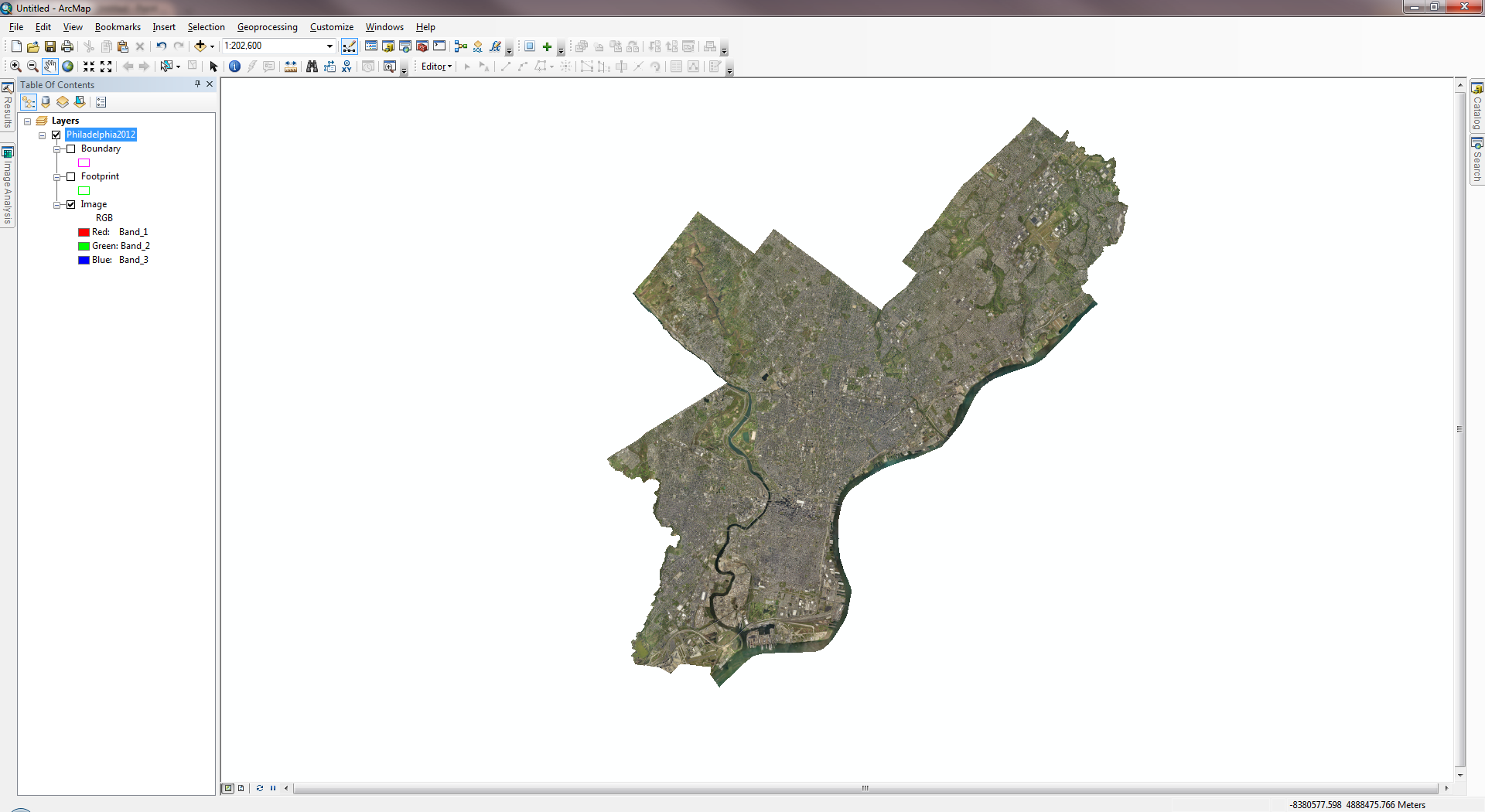 2. (OPTIONAL) Open the Generate Tile Cache Tiling Scheme tool within the Data Management > Tile Cache toolset. Specify to generate a NEW tiling scheme, specify the number of scales, the scales themselves, and tile format: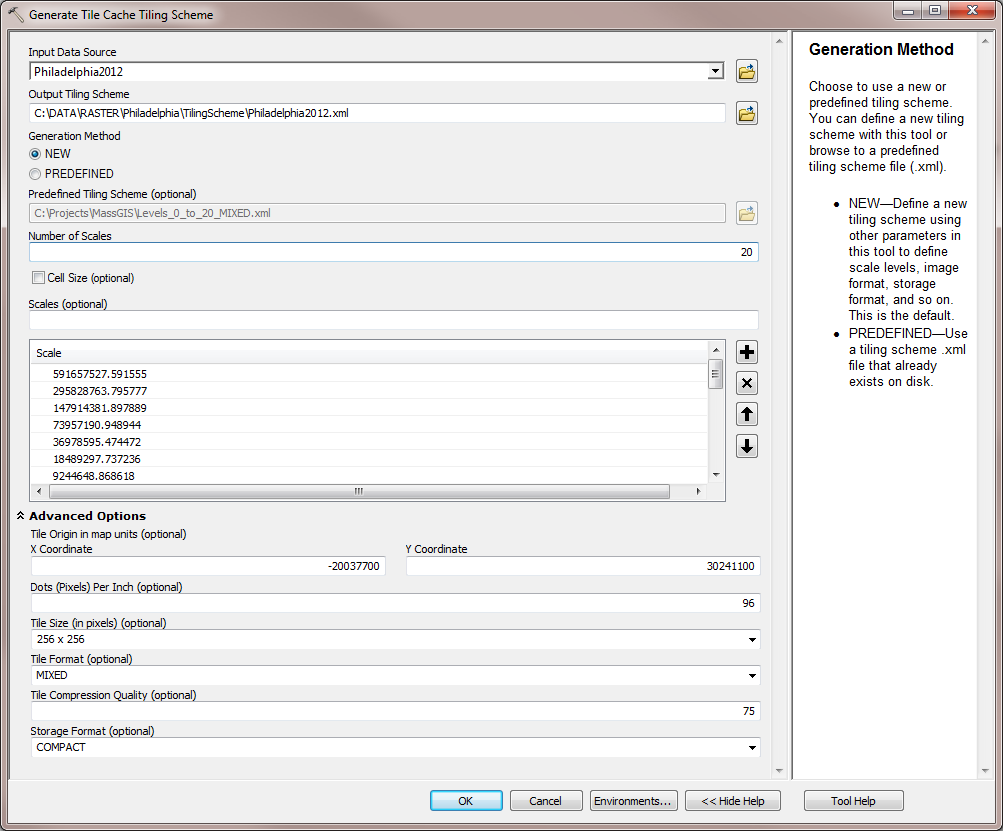 3. Open the Manage Tile Cache tool. Specify a cache location, cache name, and the input data source (i.e. in this example, the mosaic dataset). For the Tiling Scheme choose an ArcGIS Online predefined scheme from the dropdown, or choose 'IMPORT_SCHEME' and browse to the XML file that was created with the Generate Tile Cache Tiling Scheme tool. Optionally, adjust the minimum and maximum cached scales.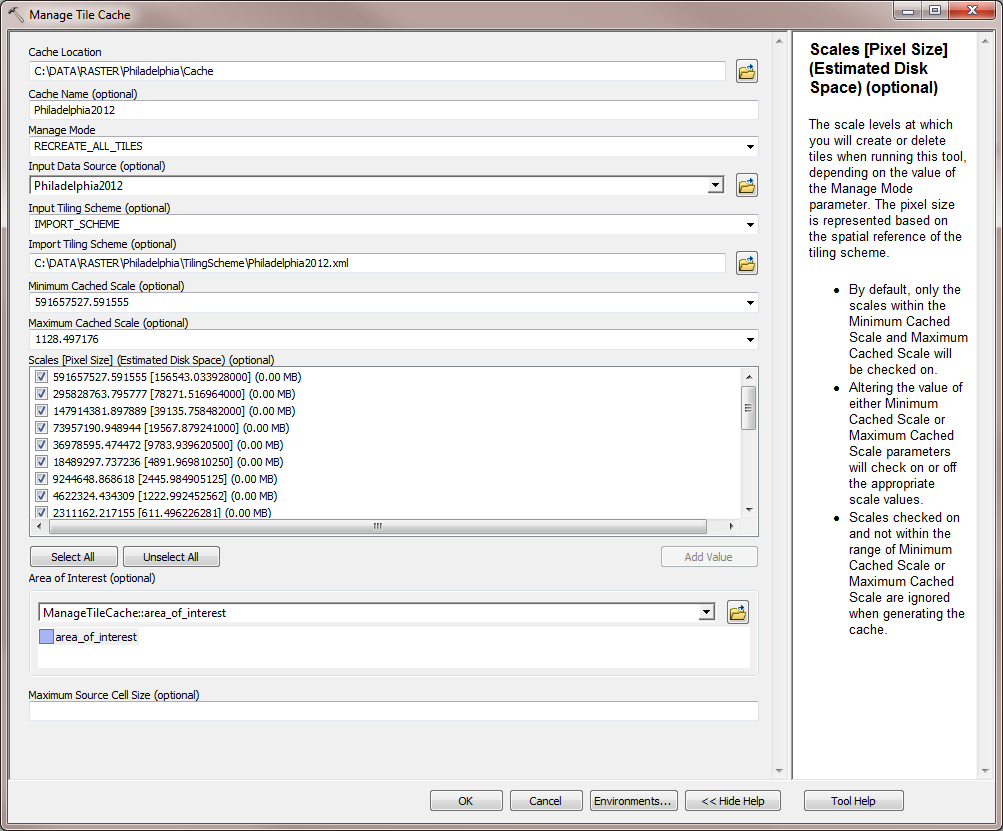 Note: The Environment Setting Parallel Processing Factor can be used to speed up performance by taking advantage of more than one core.
4. After this tool completes, the cache is created and added to the map. Next, open the Export Tile Cache tool. Specify the cache that was just created and an output location. Choose 'TILE_PACKAGE' for 'Export Cache As'. This tool will create a .tpk file.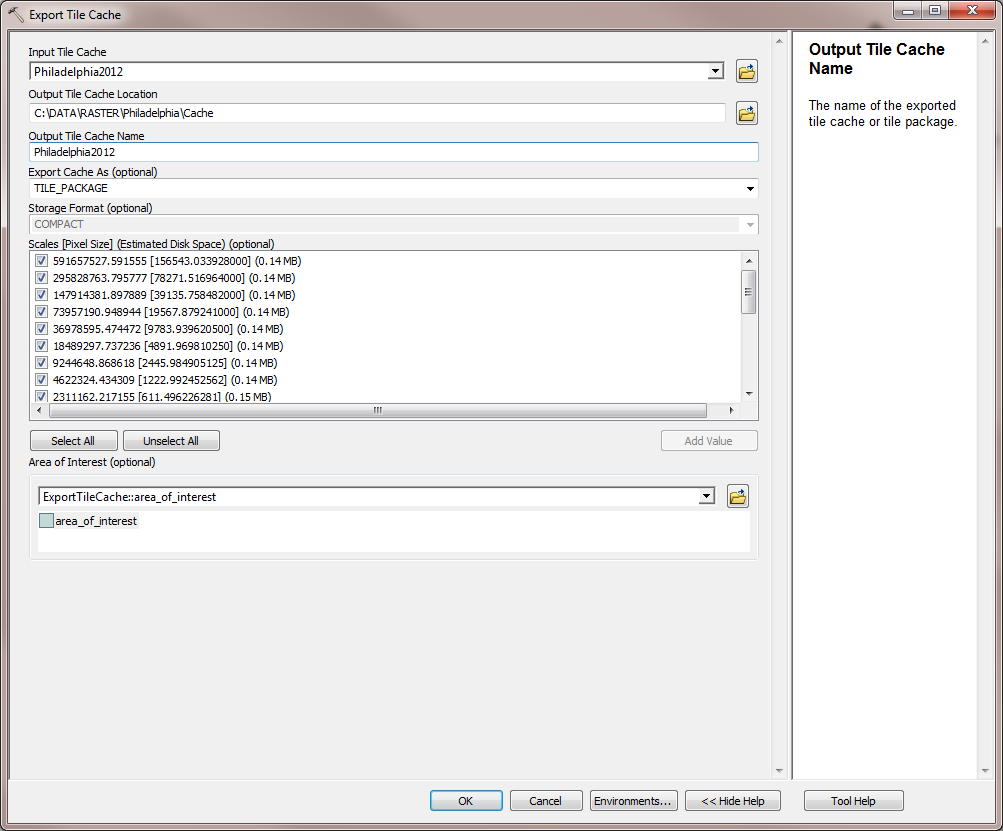 5. Share the TPK file to ArcGIS Online by opening the Share Package tool. If you are not signed in to ArcGIS Online, it will prompt you for your credentials. Once the Share Package tool is open, specify the .tpk file for the Input Package created previously. Add a summary, tags, and optionally share this with Everybody or your ArcGIS Online Groups.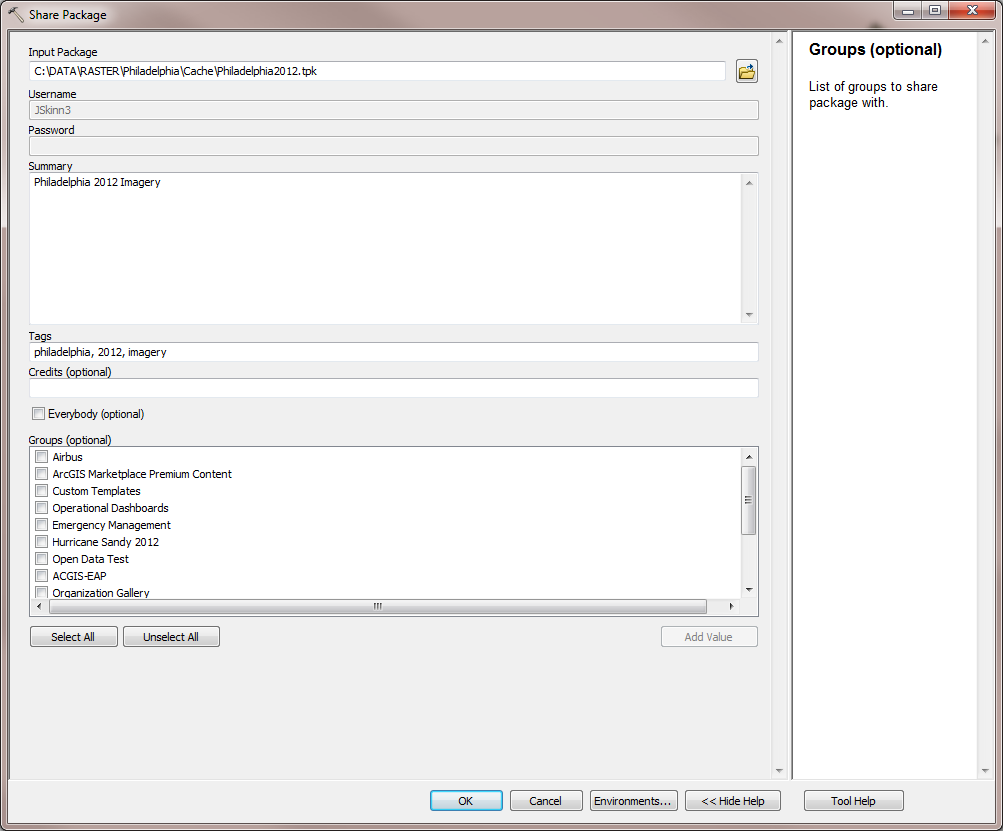 6. After the Share Package tool completes, login to ArcGIS Online using a browser of your choice and browse to 'My Content'. You will see the tile package there:

7. Click on the tile package > Publish > Publish: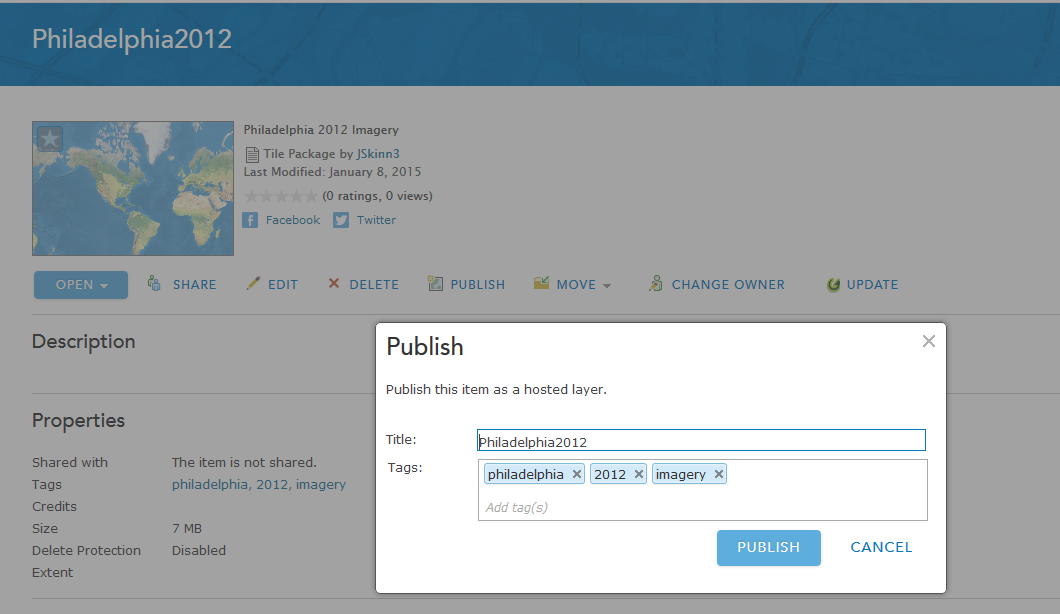 The tiles will begin publishing. You can check on the status of the tiles by clicking on 'Manage Tiles':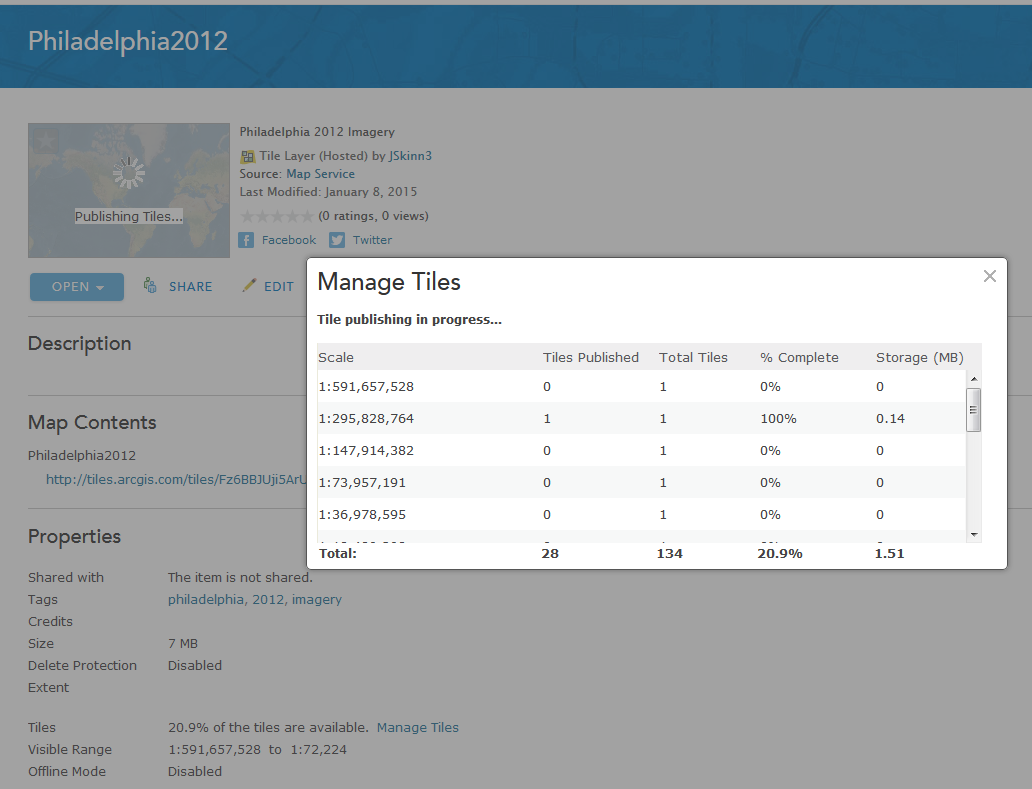 Once all of the tiles are published, you will have a Tiled Layer you can use with your web maps and apps:

Since you used Desktop to create the tiles (ArcGIS Online was only used published them), you will not be charged 1 credit per 1,000 tiles generated. You will only be charged for tile storage, which is 1.2 credits per 1 GB stored per month.