New Contributor III
Mark as New

Bookmark

Subscribe

Mute
Hi there,
I am trying to map out routes in NYC using GTFS Public Transportation Data. I used the ArcGIS Pro Tutorial to create the Network Dataset, but when I am creating route layers, they do not seem to be following the available public transportation routes. I have attached a screenshot- the colored lines are the results of GTFS Shapes to Features from all the GTFS layers I used to build the network dataset (buses, subways, and ferries), and the purple line is the route between points 1 and 2 (created using create route layer, add locations, and solve- screenshot attached of the settings). It does not appear to be following any available public transit routes. I'm not sure if this is an issue with how I set up the Network Dataset, or if it is an issue with how I am running the Route tool. I also wonder if there is an issue with how the Network deals with travelers walking under the expressway overpass (the darker green line directly to the right of stop #1) in order to reach the major subway lines that are on the other side of the overpass (red/orange/yellow lines to the right) which is a commonly used route in reality, and if there would be any way to resolve that.
Thanks in advance for any advice!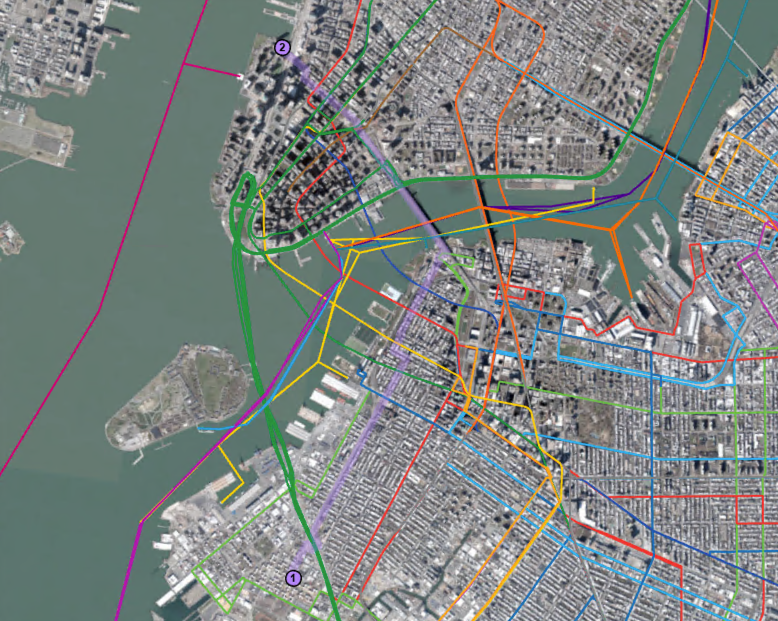 1 Solution

Esri Regular Contributor
Mark as New

Bookmark

Subscribe

Mute
Aha! The clue is in your screenshot of the Route analysis ribbon. Under Date and Time, it's set to "Not Using Time". In order for the public transit to be used, you have to set a day/date and time. Otherwise, it will ignore the public transit, since it doesn't know how to look up the schedule when no time is specified.
7 Replies