New Contributor III
Mark as New

Bookmark

Subscribe

Mute
Hi,
I'm working on a direction based project and have been working through the Network Analyst tutorials (10.0) and have been able do follow along and get similar results using the ArcTutor datasets.
However when I start using my own datasets, I get a "Directions Ready: No" and "Length Attribute, Street Name" required. I have both of those attributes in my dataset and still get the error.
Is there a set schema I have to use?
Andy
1 Reply

New Contributor III
Mark as New

Bookmark

Subscribe

Mute
Ok.. I figured it out.
First it had to do with the way I was creating the network dataset.
ArcGIS Help (10.2, 10.2.1, and 10.2.2) Is the place I started.
Is where i went to do the closest facility analysis.
ArcGIS Help (10.2, 10.2.1, and 10.2.2)
First the 'Length' attribute had to be added as a cost. There had to be a length attribute. I used the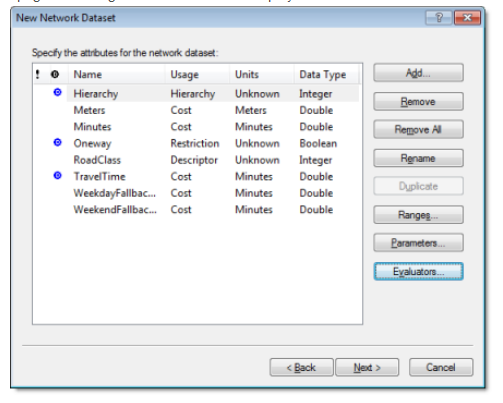 Evaluators in the example data in ArcTutor datasets for Network Analyst were where I looked for the clues I needed. The 'Length' Data was not being picked up you have to actually set that up as a parameter in the operation. I figured this out by re-reading and trial and error.
My Network Dataset looks similar to this.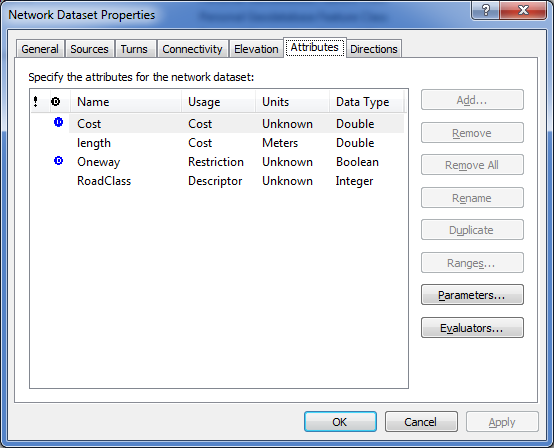 I'm not saying that this is the best result, but the start of getting more realistic results from my data. I hope that this helps someone..
Andy