New Contributor II
Mark as New

Bookmark

Subscribe

Mute

Email to a Friend
Dear All,
I am new to ArcGIS, and got confused when using Network Analyst functions. I am following the tutorial for Network Analyst, and when I am doing Tutorial 4 which is finding the closest facility, and I saw three classes in one layer which are Transportation, Analysis and BaseMap shown below.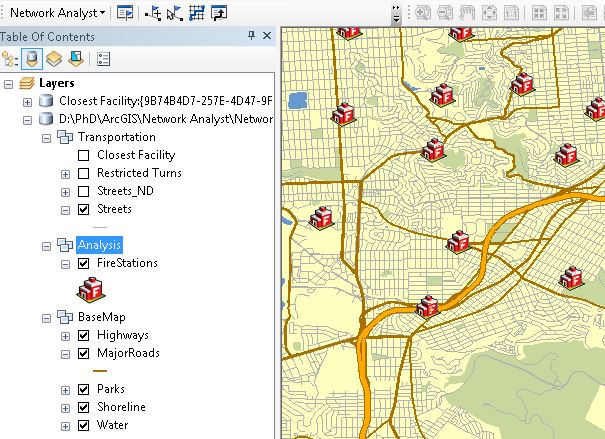 I am wondering how to load or add locations of some facilities, such as fire stations in tutorial 4.I tried to follow the help, it shows how to add locations to the selected analysis class by using 'Create Network Location Tool', simply just click on the map and then it will show under the facility class.
My target is to locate over 30 petrol station on the map of Cardiff, and when add one facility by using 'Create Network Location Tool', it didn't give me any address information. just called 'Graphic pick 1'. It is time consuming to do it manually, and I am wondering if I could load the petrol station on the map, from 'Load Locations'. By solving the problem this way, how should I create a text or excel file to including the information about the petrol station. Should I consider using Geocoding to match address?
I am confused here. Could any one help me here, give me some advised?
Really appreciate.
Nancy
1 Solution

by
AndySmith

Esri Contributor
Mark as New

Bookmark

Subscribe

Mute

Email to a Friend
Hi Xiaodan,
You do not have to create a new layer for your petrol stations. If you have one already you can use that.
If you do not have a layer, then you can create a new shapefile or feature class to store this information: ArcGIS Help (10.2, 10.2.1, and 10.2.2). You can then add your petrol stations as individual points in the new feature class: Creating a point feature by clicking the map—Help | ArcGIS for Desktop
Alternatively, if your petrol stations are stored in an table file such as Excel for example, you can load this table into ArcMap: Adding x,y coordinate data as a layer—Help | ArcGIS for Desktop
Please make sure to mark responses as helpful, and mark the original question as answered when it has been resolved. This helps the community know if further suggestions are required, and also which responses specifically helped resolve the issue.
8 Replies