New Contributor III
Mark as New

Bookmark

Subscribe

Mute

Email to a Friend
I have found myself in a great new role as a GIS analyst for the United States Air Force Civil Engineering section. We have a very robust ELA with Esri and with AutoDesk. From a business perspective, Esri is great to work with from the sales to the engineer support staff. AutoDesk, not so much. From our level, we manage the distribution of licenses, training, and usage. Since we manage this level of data for hundreds of users around the world, it would be nice to visualize the information but, the MyEsri and AutoDesk sites only export "flat files;" usually Excel documents. I would like to use Insights for ArcGIS to manage the Air Force's ArcGIS and AutoDesk. Is there a way to connect to the websites' report generators or would I need to do a fresh download? What steps would we need to go through in order to take Esri's data to make Esri's app work with it?
2 Replies

Occasional Contributor II
Mark as New

Bookmark

Subscribe

Mute

Email to a Friend
Hi Ed,
Insights for ArcGIS does have the capability to work with your Excel files and Enable Location (based on X, Y, Geocoding, etc.) in them so you can visualize in a map. (see picture). Will that work for you?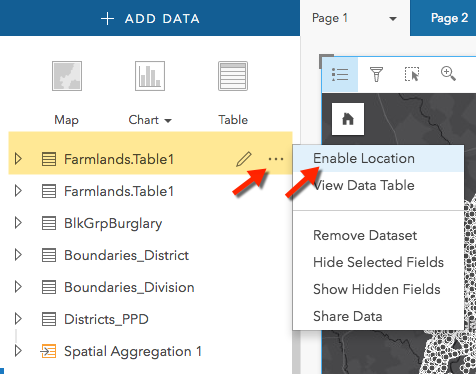 New Contributor III
Mark as New

Bookmark

Subscribe

Mute

Email to a Friend
I am just learning about the MyEsri administration functionality but, oddly enough, that doesn't seem to be an option to be included in the download. I would also like to dynamically use the reports instead of having to generate new ones. Once we get the GeoEvents processor stood up, that may be what we use.