New Contributor
Mark as New

Bookmark

Subscribe

Mute
I upgraded to 2.0 today, and now the feature layers I have are not searchable from the site. I have set tags for each, but when I use one of the tags to "Find Data" from the site, nothing is returned. In fact, it shows that I have no data , as you can see from the 1st screen shot below. They do show up in the configuration manager under items and datasets, as seen in the 2nd screen shot. Anyone have any thoughts as to what I am missing?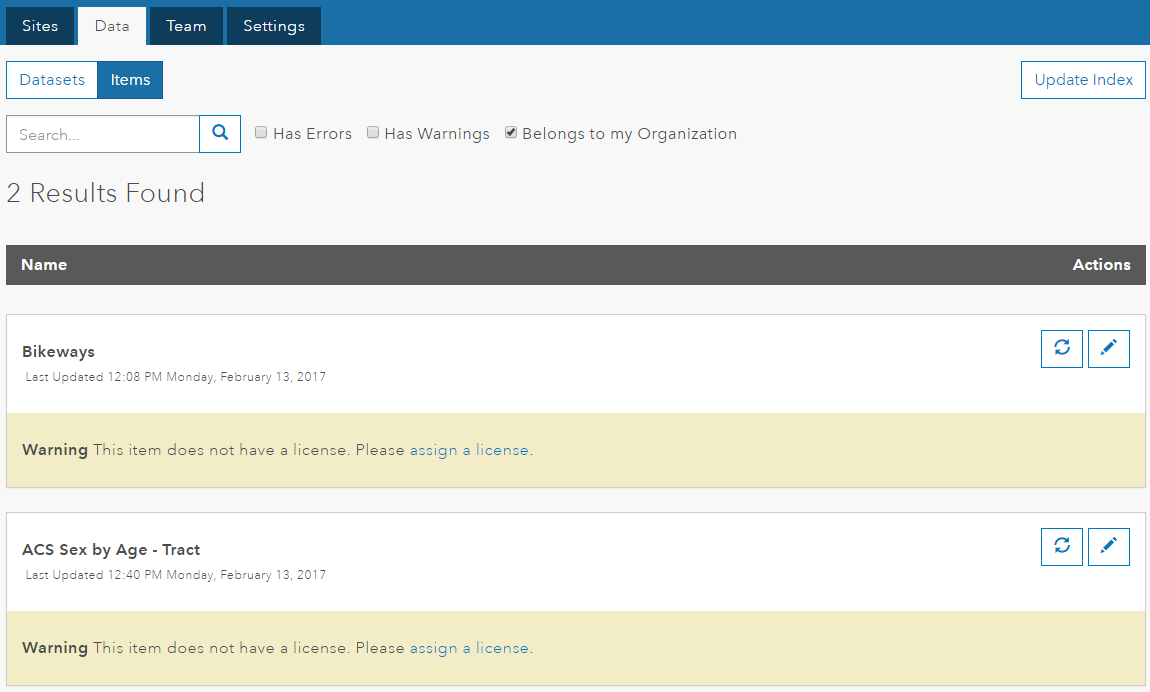 3 Replies

Occasional Contributor III
Mark as New

Bookmark

Subscribe

Mute
Hello,
In your groups manager of the site - is there a group added? Can you click into that group and see if the dialog indicates that there is data, and if so, remove and re-add that group?
Courtney
New Contributor
Mark as New

Bookmark

Subscribe

Mute
Thanks for the response Courtney. Yes our Open Data group had been added and it had data. The other thing is that our data was searchable from ESRI's Open Data site and our legacy site. Anyway, I ended up putting in a ticket to help resolve a completely new Open Data issue for the following reason:
As a matter of trying to resolve the above issue ourselves, we deleted all existing Open Data sites, AGO Open Data groups and disabled Open Data. The intention being that we would start completely from scratch and whatever bug we were experiencing would magically right itself. However, when we re-enabled Open Data, the Open Data Collaboration Group that gets created during the Open Data 2.1(?) upgrade process did not get recreated, so now our site is completely broken. I guess I'll never know why we lost the search functionality in the new version.

Occasional Contributor III
Mark as New

Bookmark

Subscribe

Mute
Can you please send me an email at cclaessens@esri.com - there are two options we have to move forward.
Thanks
Courtney